Get Wrecked, Son!
Feb 6, 2017, 9:00:54 AM
---
Get Wrecked, Son!
Yeah, get wrecked, son! That's how Kamiko fixes a problem.
This is the last page of The Galactic Train and the end of this short, limited comic.
I did these drawings over last year's Inktober and decided to make those drawings into a short story.
The last two prompts are #30 "Wreck" and #31 "Friend."
But what about the galactic train? What was it? Who is the little girl? Why was Jade and Kamiko in the train in the first place? What was that monster?
(shrugs)
A story for another time... Maybe next year's Inktober!
What's next for This Mortal Coil?
I introduced the next major story title: My Neighbor Kamiko.
To be honest, I haven't done too much work against it. I've plotted out a bunch of 4-panel comics, but I haven't done anything beyond some rough sketches.
The reason I haven't done much work is because I'm busy putting my first novel series together.
The novel series is called...
The Mechanical Bird
I spent the last two weeks editing and proofreading The Mechanical Bird: A Tale of Two Ladies and making a cover motif for that I can use across all of the books in the series. Here's what the cover looks like: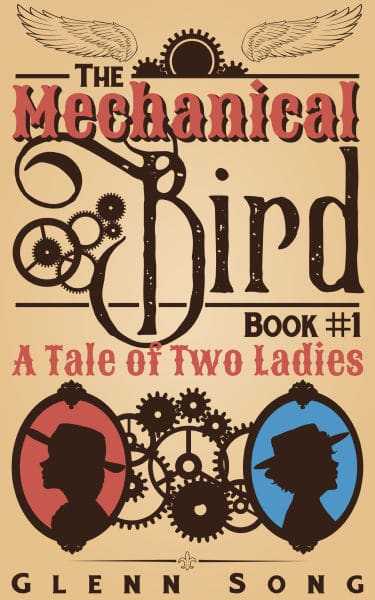 I'm by no means a talent with grammar or a great proofreader, but this is another scrappy, DIY venture into the world of self-publishing. My goal is to push out the first 3 books on Amazon and see if I can't start making money with them.
If I can earn some kind of income, I can use it to bootstrap the rest of the novel series and see if I can make the covers better and maybe get a better line editor and build my writing/publishing career from scratch.
If you'd like to follow my adventures, click the image to sign up for the Mechanical Bird mailing list here:

Head over to Facebook and like my page The Mechanical Bird if you want to follow me there.
Oh, and if you'd like to buy Book 1 of The Mechanical Bird, follow this link to Amazon.
You're probably still wondering...
That's nice. What about the next episode This Mortal Coil.
I'm...slooowwwly working on it and I don't have a better answer for you right now. I'll continue to make blog posts keeping you up to date on my progress.
What will show up on This Mortal Coil starting next week?
I do have some illustrations I did on Instagram which I might repost here as a new "book." You may see some guest art here as well.
In any case, I'll see you next week!