O Tannenbaum, O Tannenbaum...
Dec 24, 2016, 11:00:26 AM
---
Merry Christmas!
This year I made a custom Christmas card and sent it out to friends and family. I used Vistaprint to help me print and send the cards. I paid them something like $33 bucks to do all of that, but I admittedly didn't send it to a lot of people.
Here's a close up of the actual card Vistaprint printed: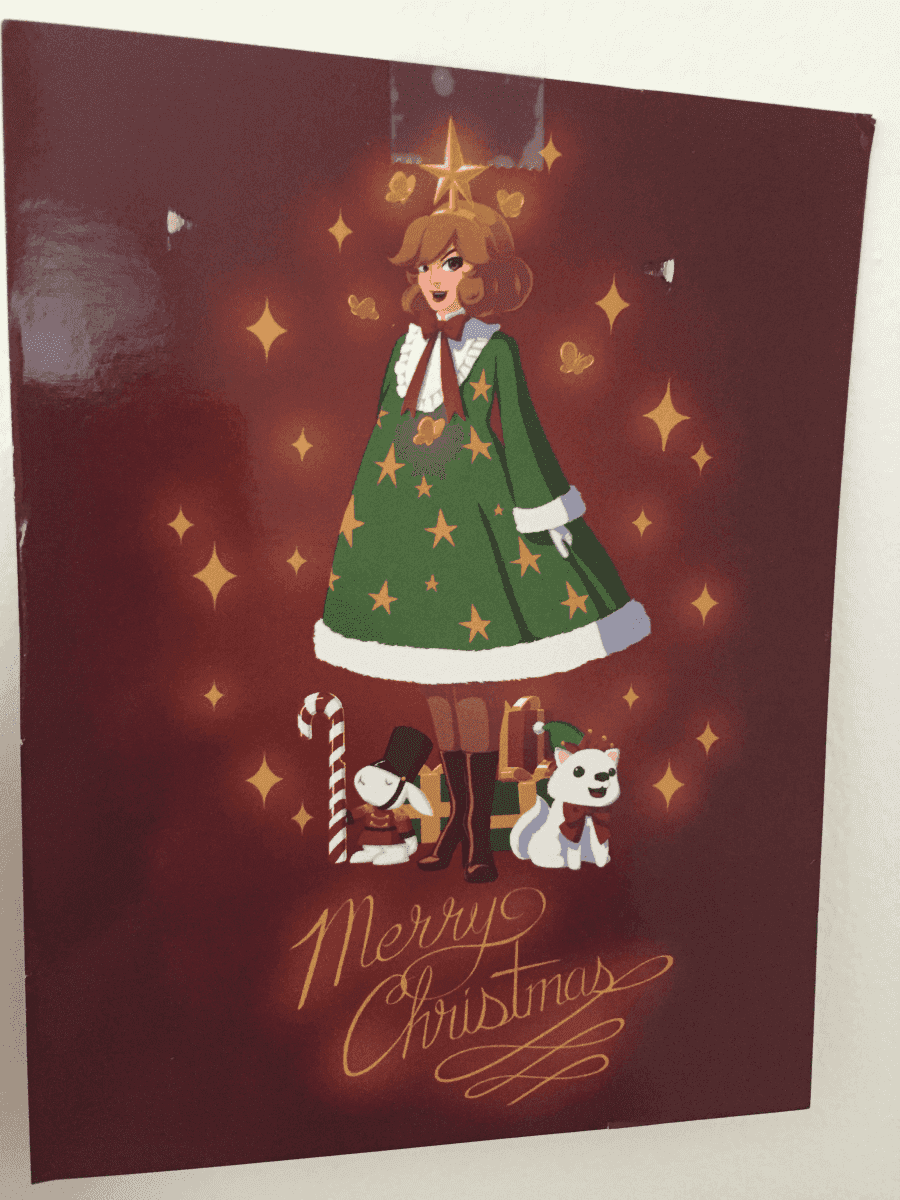 I mailed it as a postcard to avoid additional feels like envelopes and whatnot. I wrote a very simple message on the back too: "Merry Christmas and Happy New Year!" You're not missing too much.
The card itself turned out pretty well. I wasn't looking for highest quality, but rather, cheapest and laziest means of sending Christmas Cards.
Despite it all, 2016 wasn't a horrible year for me. I finished This Mortal Coil: The Rabbit and the Moon. I finished the Lolita Turntable and made it into a coloring book which you can purchase on Amazon. I even put together a print graphic novel of the comic, but it's not available yet -- not until I can inspect it and figure out what to do with it.
I did a retrospective of The Rabbit and the Moon in June.
I did Inktober in October and made that into a little comic which you can see here.
I started writing a novel in November called The Mechanical Bird and you can read the rough draft on Wattpad.
I also published two video games in 2016: Ollie and Flip: Arcade Snowboarding and Toodle's Toboggan (iOS, Android).
I think I learned how to do the social media thing better. I got reviews for my coloring book and grew my Instagram and Twitter a bit. I'm slowly beginning to get the hang of things.
2017 is completely unknown to me at this point. I'll probably be going back into the workforce in some capacity. I'd like to try out some video blogging and screencasting. I want to finish my novel and get it into shape so I can find a literary agent/publisher for it.
While This Mortal Coil has some kind of second episode in "The Galactic Train" it's not a full second story and that's something I'll have to figure out in 2017 as well.
How about another Lolita Fashion coloring book?
A lot of people like to say "Fuck 2016." A lot of beloved musicians and actors passed away. Things did not go the way folks thought they would, in America anyway.
That all aside, 2016 was fairly decent to me in terms of my artwork and doing my own thing. I don't think it'll allow me to pay the bills yet, but I'm working on it.
Here's the 2017... it won't be better, or worse, but it'll be what you make of it, and god willing we're all here at Christmas again, I'll draw you another Christmas Card.