Concept Art: Natsumi's Mom
Sep 14, 2016, 1:00:49 PM
---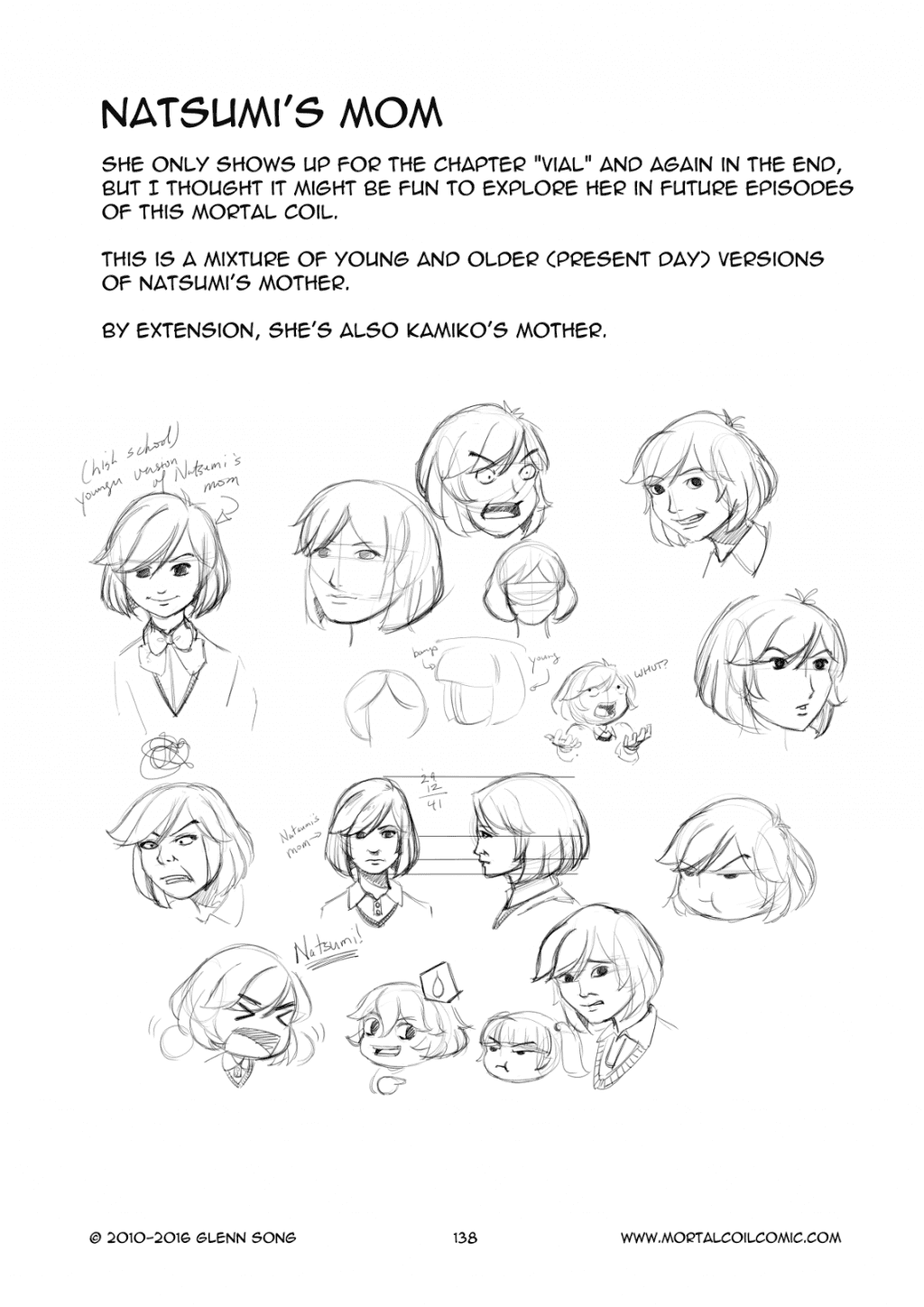 Natsumi's Mom
Today's character sketches are of Natsumi's mother, who didn't have her name revealed in the comic, but it's Takahashi Miho.
You'd be right to also think that she's Kamiko's mother as well.
I'd love to explore her in future episodes and how she shaped Natsumi and Hana's personalities. All in due time.
I know it's weird to dedicate a whole page to her when she barely shows up for 3 pages in the comic, but as I developed her backstory, I liked the character I created so some of this is the evolution of Miho.
So what's the deal with Miho calling Natsumi "first born child."
It's from the Passover, that is, when I learned what it was. The first born child is marked so when God sweeps through, he doesn't kill the first born. It's Miho's way of intimidating her indefatigable daughter that if God were to passover today, she wouldn't mark her and leave her to fend for herself.
Not a bad origin story, huh...
Oh wait, what...
Don't mind me, I'm just making things up...
More Concept Art Pages
I only have one left after this, but I was thinking of extending the concept art to show you some of the 3D to final illustration comparisons too. So I hope to put those together so you can see how various 3D models were constructed such as the mannequin, Shinto and Yayoi shrines, and what not.
If you have anything you'd like to see in particular, please mention it in the comments below and I will try my best to add it!
Pledge to my Patreon
Did you know that This Mortal Coil has a Patreon?
If you like the work I do here crafting this comic and The Shrine, and would love to show your support, you can follow the link here: This Mortal Coil on Patreon.
As you notice I don't post much to Patreon, but aside from my gratitude, I don't have many other milestones planned. Maybe I postcards or something? I'm not sure yet.
FYI, I've gotten the "pledge for pledge" nonsense before, and I don't do that stuff. If you fundamentally like what I do here and want to see more of it, and want to pledge your support financially, then I thank you from the bottom of my heart!
Anyway there's my "PBS fundraising" pitch.
Fiverr Commissions?
I started researching Fiverr for work, and I figured, why not spread the love of This Mortal Coil around. If you are a fan of Lolita Fashion and would like a drawing like what you see in the Lolita Turntable of your original character, then check out my Fiverr gig.
I'll see you next week!