A Voice in the Woods, Page 5
May 16, 2015, 1:00:52 PM
---
How It's Made: A Voice in the Woods - 5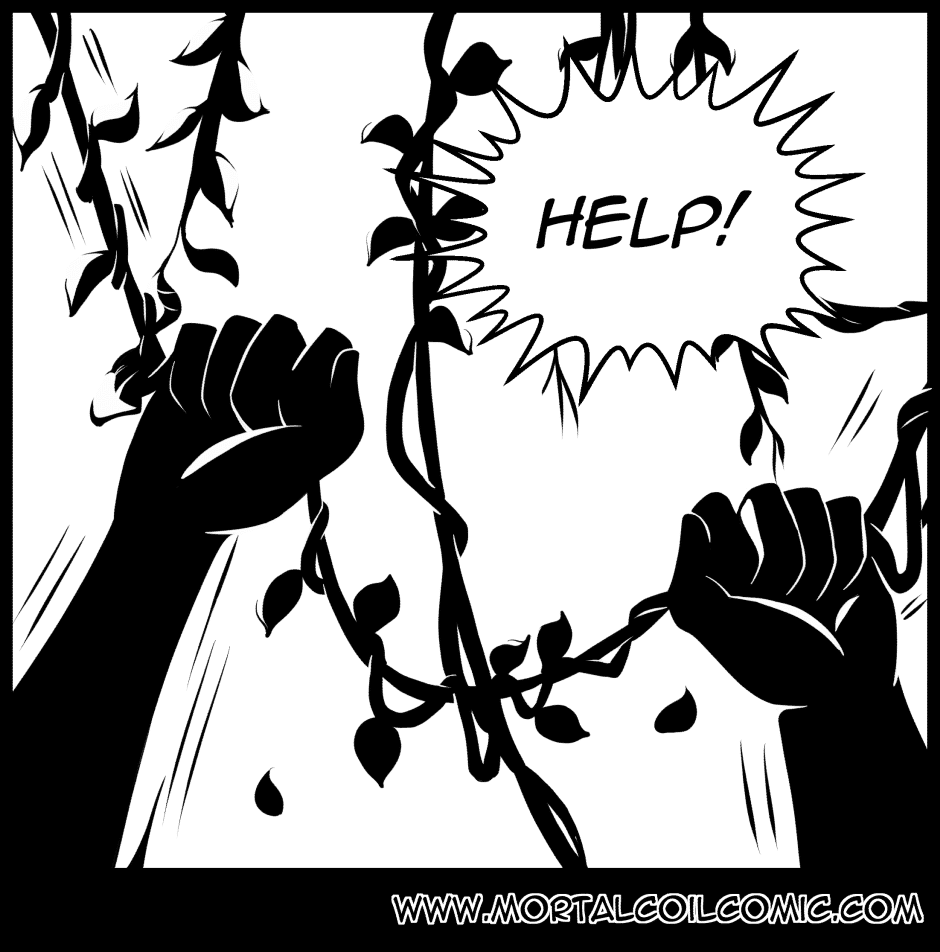 Help! She's gonna fall!
Here's the behind the scenes look at A Voice in the Woods page 5. Below is the script, storyboard, and pencils for this page of The Rabbit and the Moon.
Script
Page 5
Hana falls and backs away from the Wolf as he emerges from the underbrush. In Hana's hand is a rock. She has it poised to strike if he comes closer. Hana: DON'T COME CLOSER! I'LL…I'LL HIT YOU! NATCHAN! HELP ME! 2a. Hana gets to her feet. She's got sweat on her face, tears in her eyes, and she's got the rock ready to hit the wolf, but he hasn't moved towards her. 2b. Hana backs away. 2c. The wolf steps closer. Hana: STAY WHERE YOU ARE! 3a. Hana's foot slips on the edge and she falls backwards screaming. 3b. She grabs a branch but her fingers are slipping.
Storyboard
Nothing to fancy here, it's a pretty straightforward adaptation of what the script is.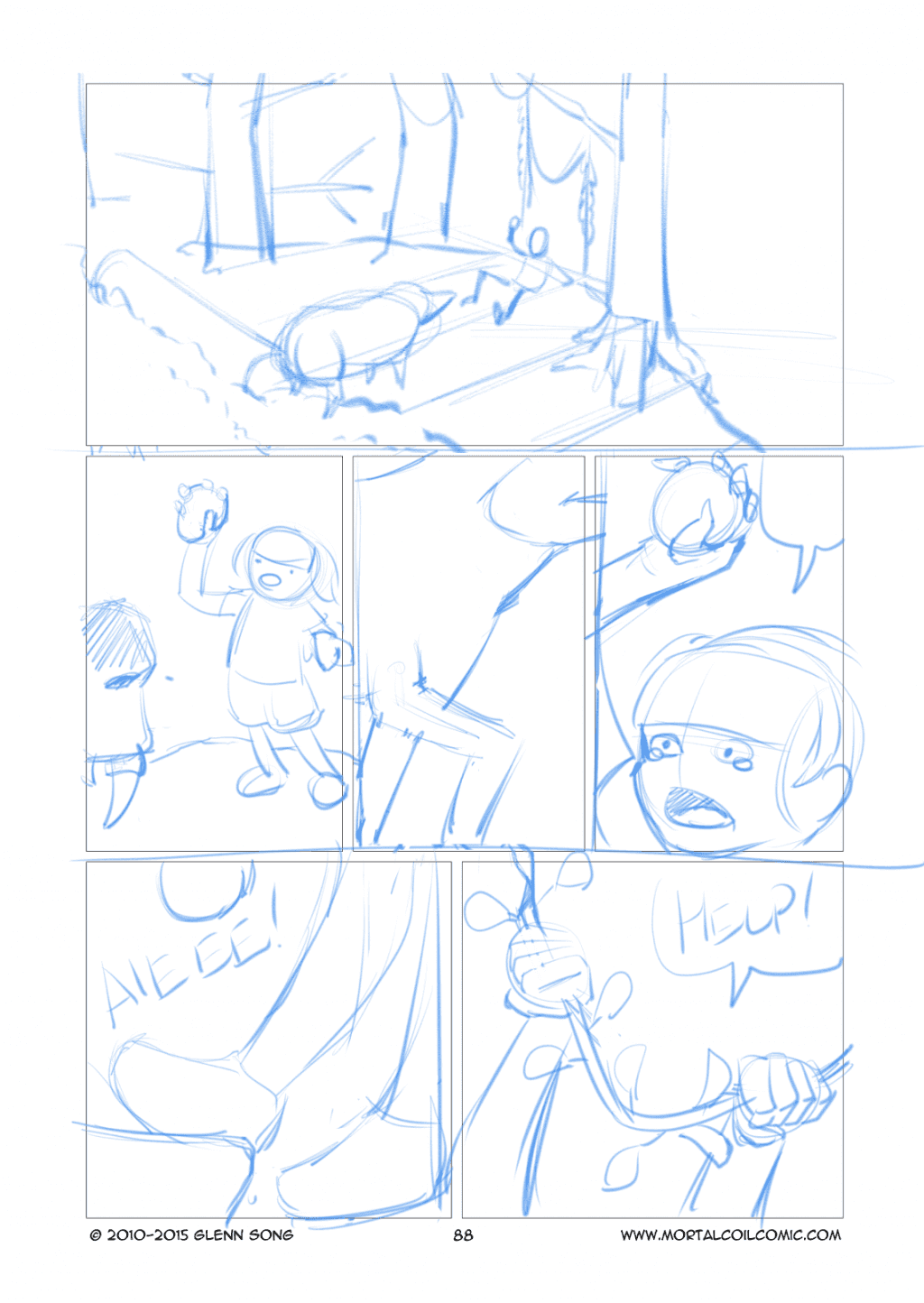 Pencils
I switched the camera angle of the scene. If you remember in the previous page we were shown Hana standing in front of the log calling for her sister, but now the camera is rotated to behind the log and we're viewing out over a cliff. I think to think that it is revealing more information about the scene, but I don't know if this is a "big no-no" in terms of camera placement/composition. Hopefully, all of the actors and scenery are in the same relative place when you make a mental model of what's going on.
I tried to set the rock up in the previous page -- at first you see it on the log, the close up of her hand taking it, and now she's got it raised over her head. At the end of the page I was thinking more in terms of close ups. I wanted to see her foot slipping on the edge of the cliff, and then the close up of her hands grabbing and tugging on the vines above her, the ones we see in the first frame of this page.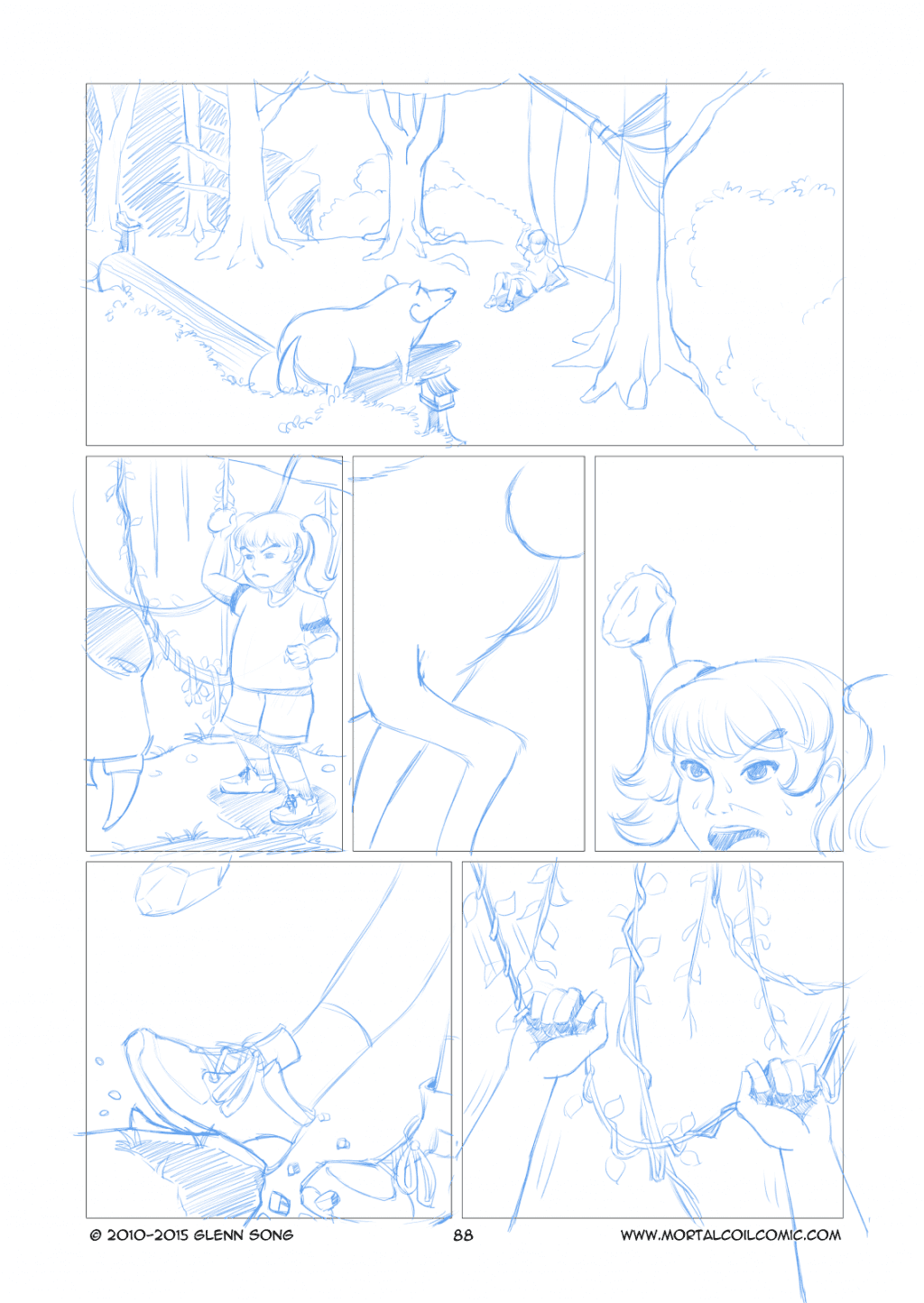 Final Page (no text)
In the previous page, everything was front lit. The light was on Hana's face, but now that she's facing away and we're facing into the light, I could draw her face dark. Rendering the vines were really fun -- I like doing the wisps of white just enough to convey a sense of shape. I like the dramatic back lighting too. I could have probably done more of a background, but I think that would clutter things. In my mind simple is better -- and also faster to paint.