Magic Healing Love Staff Activate!
Nov 28, 2020, 4:00:38 PM
---
"Magic Healing Love Staff Activate!"
ZORPH! ZAPPP ZORRRT! (Okay, that last Zort is cause I'm watching the new Animaniacs... narf.)
This is the first time she's really used her love staff as it was meant to be used. Previously we've seen her use the staff as a baseball bat.
So, she's learning...
Behind the Scenes
For the curious, here's how this comic began as a storyboard: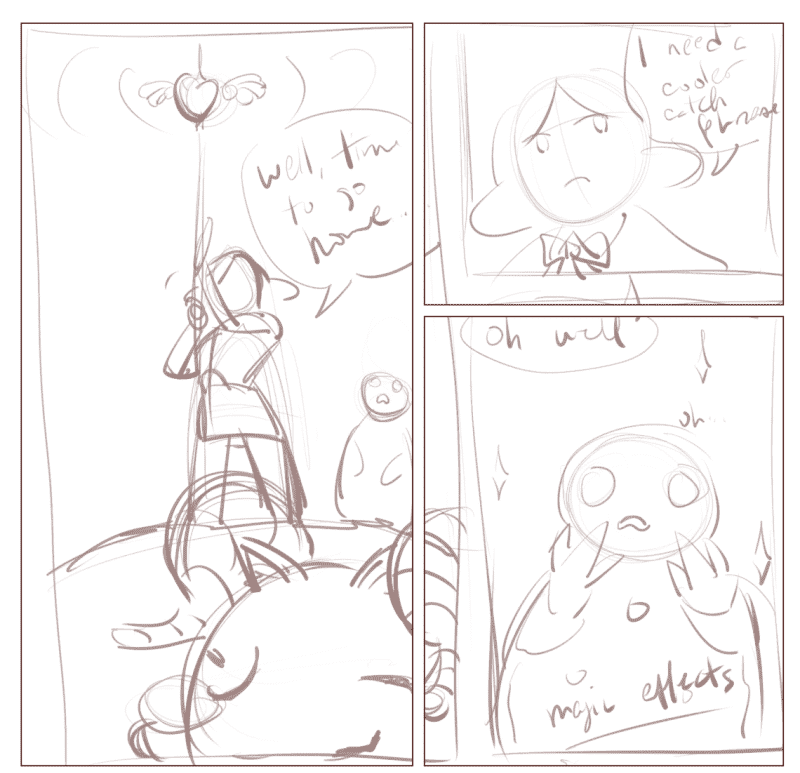 I'm back to working on art using my computer, and as that is the case, you'll see work that feels a little more finished -- I don't know why that is the case though. When I was on the iPad I felt inclined to doodle and just poop out sketches and artwork without really feeling the need to make them look nice. Now that I have the full power of my Wacom Cintiq and Clip Paint Studio I naturally fall into that process of doing things nicer.
To be honest, I still like the sketchy quality, so you may see me flip back and forth. I'm not sure yet.
I adhered to a square format because I planned to share these comics on Instagram which I still haven't done. I've only shared a few panels, but this is still the place to read the comic.
For this comic, I don't really have a script. When I started Magical Girl Kamiko, I went in with the notion that it would be more improvisational. A part of that reasoning was because The Rabbit and the Moon took 5 years. So I had a written script that represented my style of writing from 2011, and by the time the comic finished in 2016 I had a lot more ideas and a better understanding of Kamiko. While scripting everything up front gave me a strong blueprint to work from it didn't really allow me to incorporate my newer understanding of the characters and concepts.
I also started to to think that the art I create is an encapsulation of a moment -- not that Magical Girl Kamiko is very deep or whatever. But, the art you create can only be done by the person you are at that point in time. So drawing a five year old script means that's a long moment, and one that's changed simply because of time and thought.
New Illustration
I present to you Samantha the Witch! From 2008.
(Click on the image to see the full art post!)
You can view the whole art post here.
Yeah, I've been working on this one on and off for 14 years. Part laziness, part unable to figure out how to render it. I wouldn't say I know any better today, but hey, you'll never figure it out if you don't try. In the art post you can see the original sketch and an attempt to paint Samantha from a long time ago.
You might recognize her from this illustration too: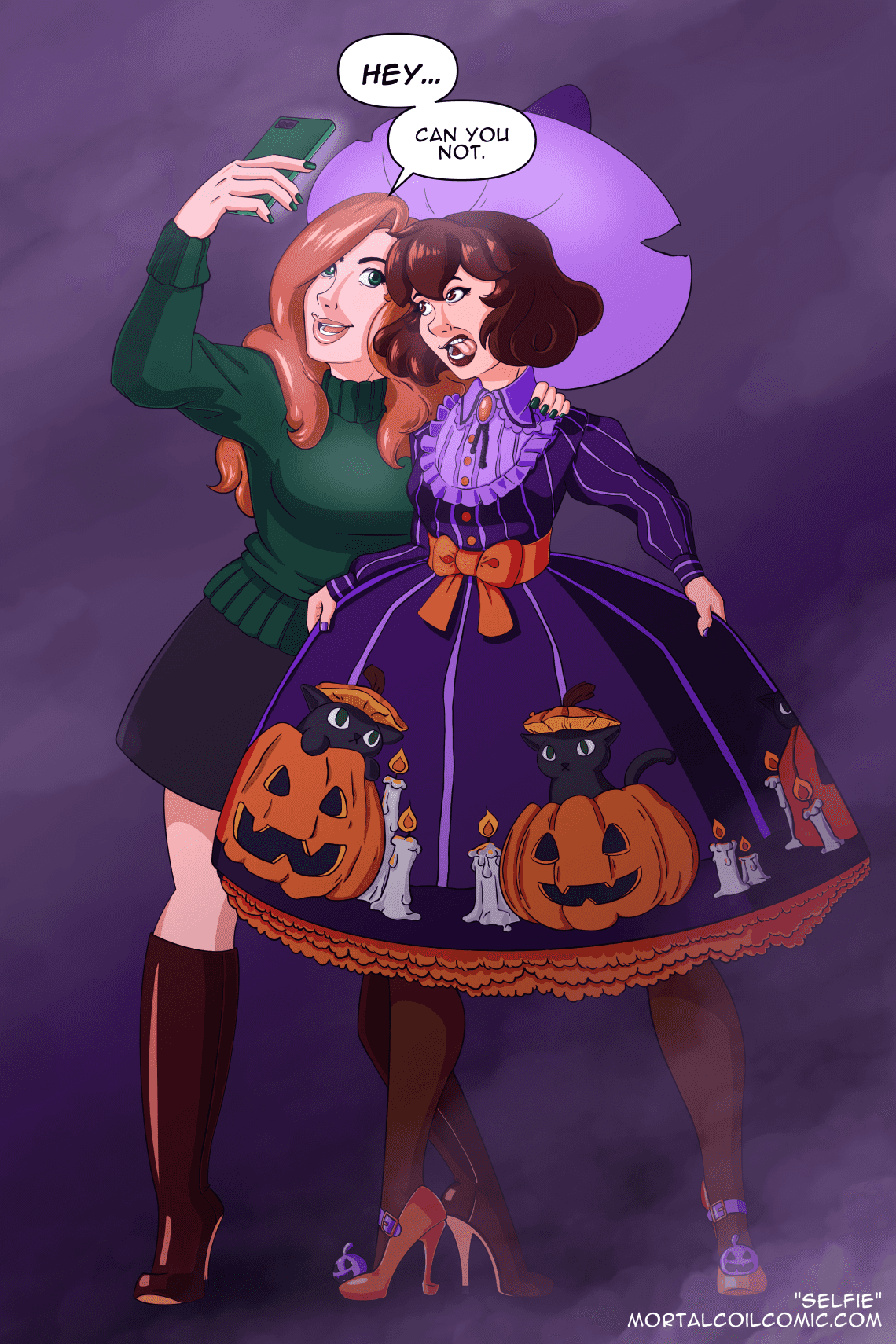 She looks different, but that's the 2019 version of her. Another sketch of her (from Inktober 2019):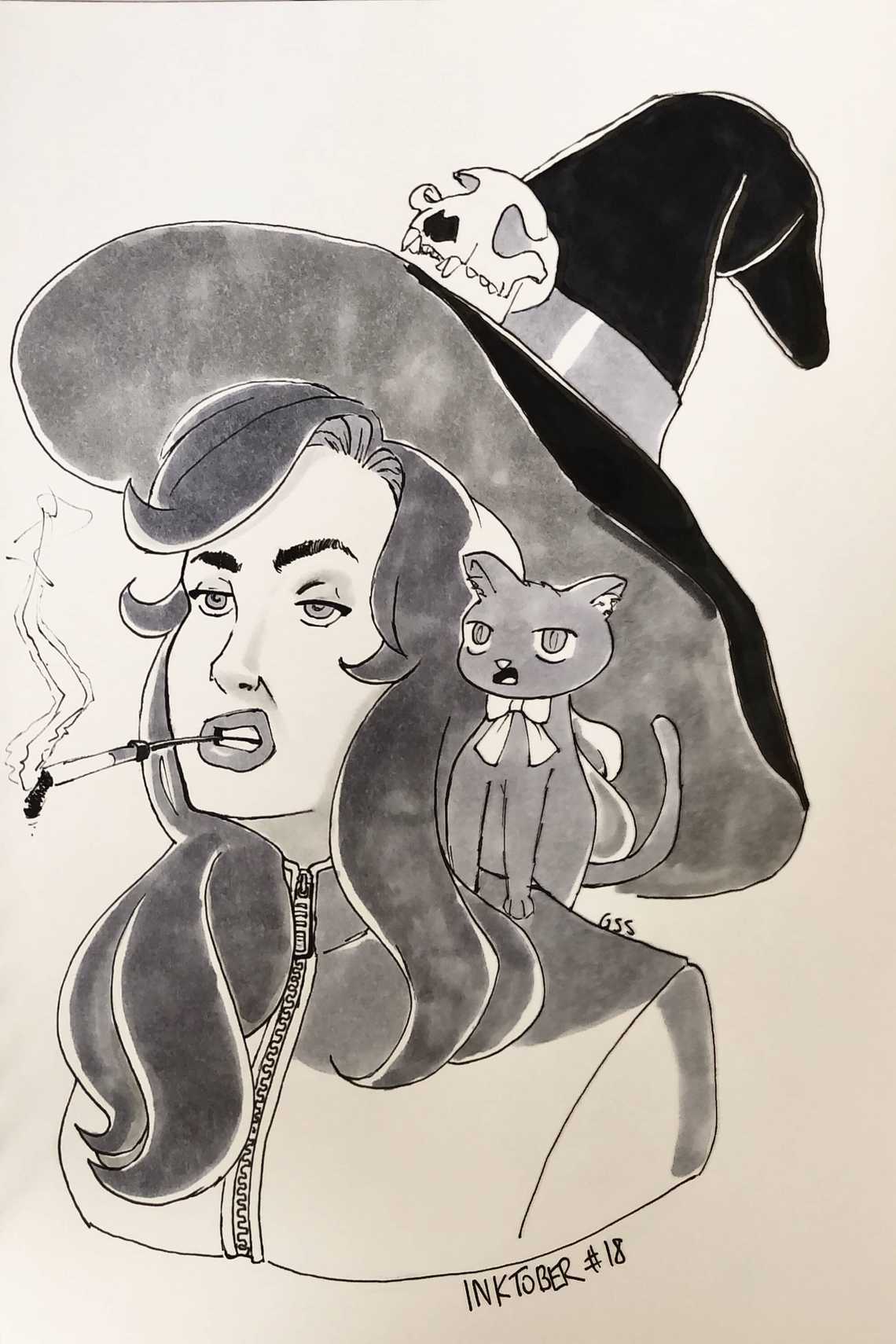 She's gained much more of an attitude over the years.
I may have mentioned that she's not formally introduced in the comics. I'm not sure when and how she'd appear. I'm even trying to see if it makes sense for her to appear in Magical Girl Kamiko, but we'll see...
Anyhow I hope you guys had a Happy Thanksgiving, and a safe one at that, and I'll see you next week with more Magical Girl Kamiko comics!