BAM! To the Face!
Jan 2, 2021, 7:48:38 PM
---
Happy New Year!
Did you know one of Kamiko/Natsumi's favorite things is baseball? She's no stranger to swinging a bat even in Magical Girl Kamiko. When we meet her as a child in The Rabbit and the Moon, she's got her baseball jersey and shirt.
It's how she takes care of business after all: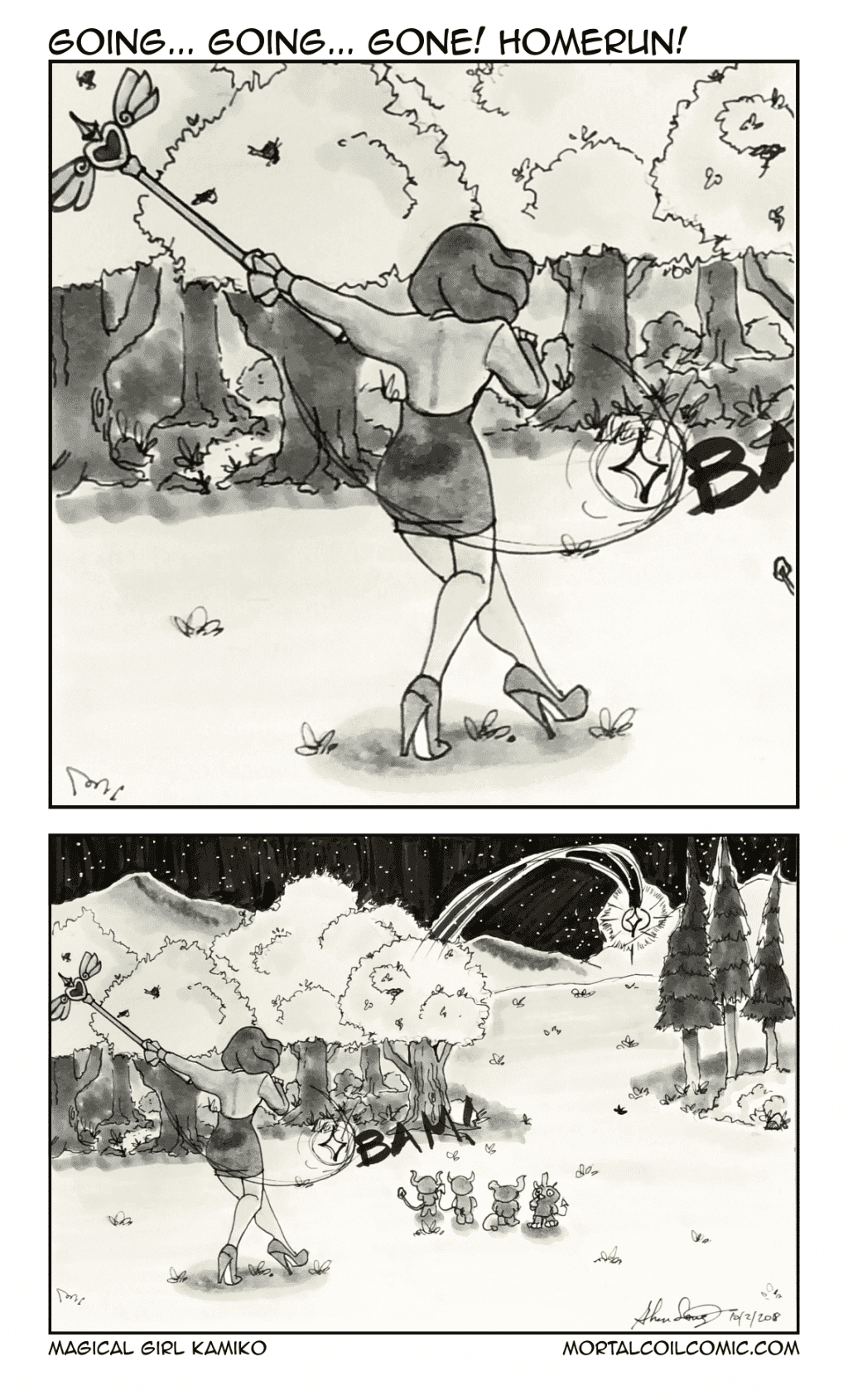 As I mentioned, I'll be sharing a small series of standalone illustrations now that "Friend" has finished its run.
I guess now that the first comic I've done in a long time is over, we can do a short retrospective. It's something we do at work when we finish a project.
What When Well?
I managed to bring the first comic I did in a long time to a conclusion and managed to update every week for at least 25 weeks. I started in July and ended in December. So not bad. I kept a schedule.
Later, I did social media on the Facebook page for This Mortal Coil and managed to keep something posting there almost daily for 2-3 months.
The art production got better. Part of that is due to getting back to a real PC and using a Wacom tablet. The early drawings for "Friend" were done using an iPad, but also done using a different mindset. They were sketches, doodles, as opposed to finished pieces of art. Now that I'm on my PC that's different because I have better tools at my disposal. I'm ambivalent towards having so much capability because that means I'm no longer limited in my creativity. It'll show up that way in my future work, but I don't know if that will also hinder my future work. I guess we'll find out when I begin to draw the next comic in earnest.
What Went Wrong?
I don't think much went wrong since I maintained a schedule and managed to get something posted each week, but we're talking about the bare minimum here.
I improvised this story, and while it was successful in creating content, I don't think the story was too great. It was made up on the spot. I tend to write "at the seat of my pants." It worked out in that there was a beginning, middle, and end, and I certainly wasn't expecting the story to be compelling or full of emotional drama.
It was meant to be small. My current approach to storytelling is to go smaller not bigger. More episodic and less grand epic. So I did like that the story was that, but improvising it got me into some things I didn't really want to draw -- mainly animals. As much as I love the two-headed doggo, I tend to find myself drawing a lot of animals and I realize most of the side characters in This Mortal Coil end up being, well, animals.
For this upcoming year one thing I'd like to do is to introduce more human characters. Kamiko's certainly got a few friends, and I'm still considering how to have them appear in the story. Maybe I should go back to improvising things and just have them show up. Unfortunately, this breaks my whole "more episodic and less grand epic" rule. I had done a lot of world building previously and that's where these characters come from -- the wider universe of This Mortal Coil.
I feel its also important that we focus on Kamiko/Natsumi for the time being to establish her better before reducing the spotlight on her.
Audience growth. I don't think I had a lot of growth, but I am trying to get the comic to rank on TopWebComics and I believe there are several people who are regulars, but its hard to guess. I know you're out there enjoying the comic, but without any kind of feedback its hard to say what is or is not working. Also, personally I've pulled back from using social media, so I won't be sharing on those various platforms much (i.e. Instagram and Twitter). It limits who I can reach, but historically, it hasn't been too useful to me.
Posting on Saturdays? Historically, I've felt that posting on the weekend meant very light traffic. Most folks mention that posting on the weekday is better. Really it fell to Saturday because that's the time I had. I may just keep this day because I don't want to bend over backwards for a perceived notion that another day will be any better and then force my schedule around that.
What Can I Improve Upon?
The art production could always use improvement, and now that I'm on my PC you'll probably see leaps and bounds made in that area. Full color?
I need to figure out doing art like this and balancing it with, well, everything else in my daily life. I want it to be a fun hobby and not a second job.
Growing an audience. I'd say I need to improve in this arena as well, but I think it's also one of the things that burned me out from doing webcomics or sharing any content online.
Social media, marketing -- this stuff gets into the business end of things and as I did it over the years it sapped the joy out of actually doing the comic. While it something to improve upon, it'll be impossible since I'm also actively avoiding several social media platforms.
Storytelling is another thing I can improve upon. This is something I've been chasing, learning, and practicing for years now on my own. My main focus is writing novellas and constructing stories using some methods I learned along the way. Now that I'm doing more visual art it'll seep back into my comics too.
Characterization. I feel like my portrayal of Kamiko's been mostly shallow. I can do some more here and that ties into improving storytelling.
Onwards...
I am working on storyboards for the next episode of Magical Girl Kamiko and I should begin illustrating them soon.
But, for the next couple of months it'll be standalone illustrations. I hope you enjoy them.
Catch ya next week!