Breakout!
May 15, 2017, 7:30:49 AM
---
Breakout!
Kamiko's here to save the day. Or is she really?
There's probably much to be worried about...
Process
In frame 1 Kamiko has a pretty complex pose, and I didn't know how I wanted to draw it. Where should I put the camera? How should I compose the shot I see in my head?
3D Layout
I decided to use my 3D mannequins to compose the shot since I knew I'd want to fiddle with how far apart Kamiko and Chang'e would be standing to one another and the camera angle of the scene. Originally, I thought it should be more overhead.
First, I actually built the tiny room Chang'e and Jade was in and then placed the mannequins and posed them. I knew I wanted to establish where they were to show where they were going (out of the room). I also wanted to give Kamiko a bigger drawing than the previous comic where she shows up in a small panel. Below is what the 3D mock-up looks like.
Once I get the 3D into Clip Studio I draw the volumes and stick figures over them, that way I'm not directly tracing the 3D models. The 3D models themselves are stiff looking and some of the appendages deform badly. They're also weirdly skinny like strange looking slendermen. I'd fix it, but it gives me more impetus not to trace over them, and since they're not used for anything final, it doesn't matter if the 3D mannequins look crappy.
And yes, I did make a special mannequin for Kamiko.
Here's what the Blender 3D setup looks like from a more "isometric" top-down view: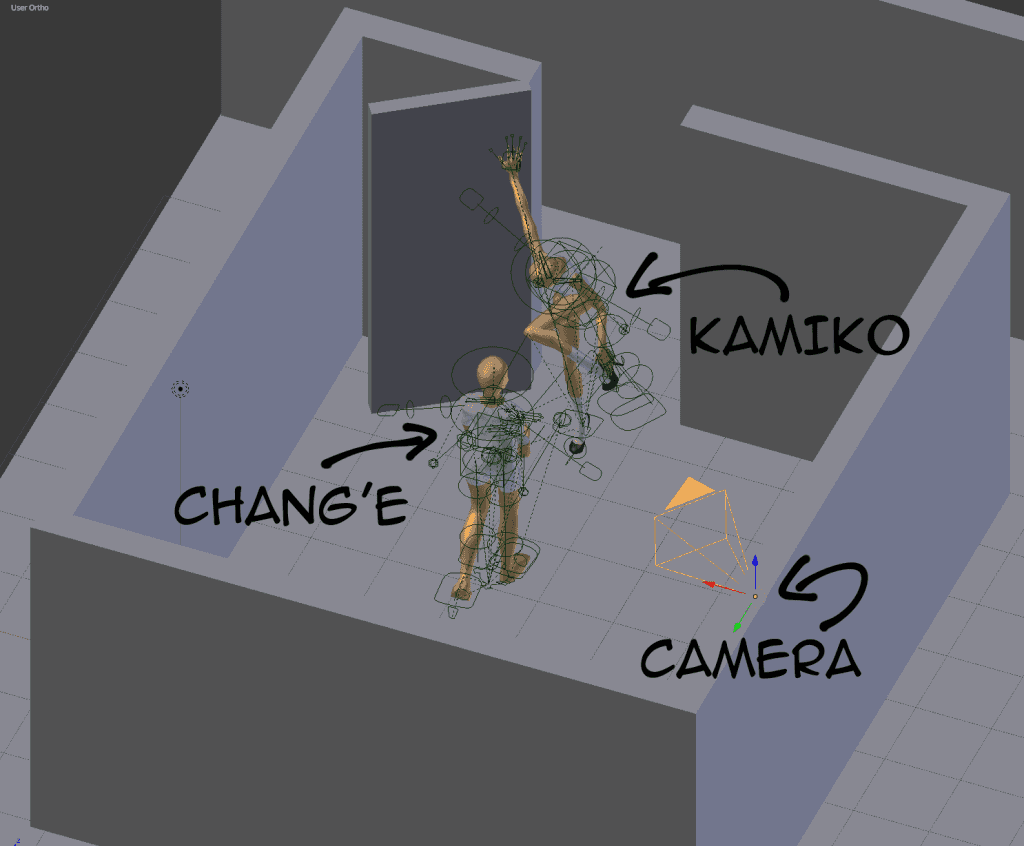 Penciling
In CSP's layer panel, I lower the opacity on the 3D layer so I can see a hint of the underlying structure, but I try and go off my 2D rough sketches of the figures. I'll try and correct weirdness I see in the 2D and get things to fit. I don't really go for perspective correct, but rather what feels correct. Kamiko's head was a bit smaller because of the camera lens, so I scaled it up a bit. Still feels kinda small, but it's a bit bigger.
Inking/Final
For inking, I start by filling in the black parts -- shadows, hair, parts of the character's clothing that are black, and generally anything that doesn't need to be of central focus to the page. From there I can suggest overlapping forms using some pen strokes or give aspects of the drawing some texture to make those parts stand out, and in the end I get this (with the speech bubbles):
The rest of the page I drew by hand. Since it's sorta funny, I went for a more chibi look all throughout.
This page probably took me a good 10-12 hours to complete. The 3D maybe took 1 hour to pose and render. Frame 1 took about 90 minutes to draw. The rest of the comic frame penciling, inking, text bubbles and SFX took me the rest of the time. This includes re-editing the dialogue.
That's all for this week! Will Kamiko get them out? What'll happen next??
Stay tuned for next week's Lady of the Moon...