Lolita Fashion #29: First Order Kamiko
May 10, 2016, 1:00:32 PM
---
Kamiko Joins the First Order
This is the 29th image for the Lolita Turntable project. WrathOfBom asked that I do a Lolita style based after General Hux from the new Star Wars: The Force Awakens movie.
Pencil to Cel-Shaded
Here's a progression from the initial sketch (based off a 3D mannequin) to the final cel-shaded version of her.
I looked up a bunch of reference for Kylo's lightsabre and helmet as well as Hux's cap. I like the tie; Kamiko looks really smart with it. Anne (WrathOfBom) said she's got to have a sneer/smirk.
Also, at her feet is Millicent, the feline friend created by the fanon. It's also the Poverty God from The Shrine. You can visit him late in the evening (somewhere around 11pm PST) or late at night when everything else at The Shrine is closed.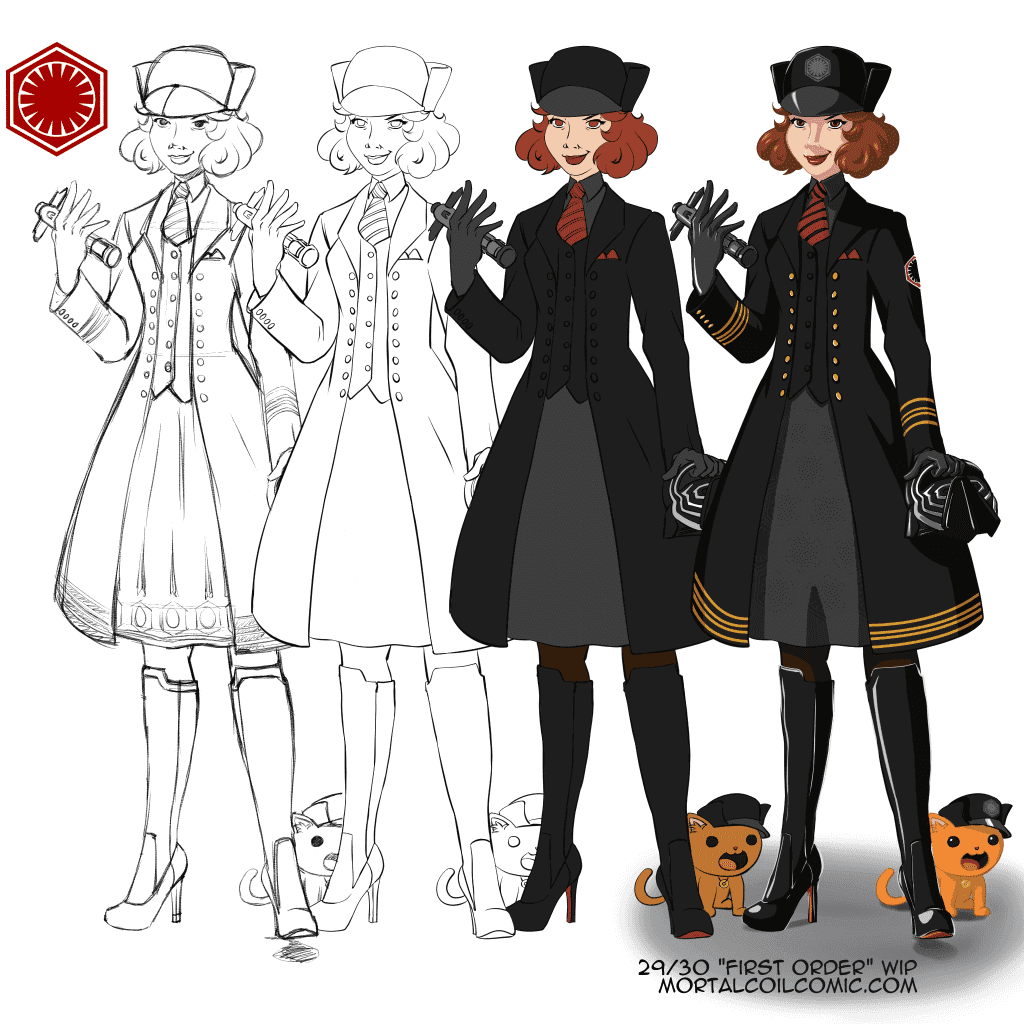 The dress style is probably more aristocratic than Lolita. I found a bunch of military style Lolita outfits, but I liked this look the best.
For the First Order logo, I found an image of it and then used Inkscape to convert it into an SVG and used it for the hat, jacket, and as detail on the skirt itself.
The boots are something I completely made up.
That's all for image. I've got some ideas for the next few as we count backwards to #15.
Update:
Here's the video of styles 1-14, 29-30 from my Twitter account:
#lolitafashion drawings 1-14, 29-30. It's got a bit of everything. I'm gonna be working on 28 soon. #oc #art pic.twitter.com/uB2JCT5N2c

— Glenn (@AlbinoGrimby) May 10, 2016
Stay tuned for more...
Vote For Us!
Please vote for the comic on TopWebComics
Links
If you like my work, you can follow me here:
All my links are on LinkTree.
Where to Read This Mortal Coil
This website will always be the best way to read This Mortal Coil, because I can present it the way I want too, BUT, the comic is serialized on these sites as well. If you prefer one of those portals, please follow me there!
Lolita Fashion Coloring Book
I'm also the creator of the Lolita Fashion Coloring Book, which you can purchase on Amazon!
And as always have a great weekend!