The Ghosts of Zojoji
Mar 27, 2021, 3:00:00 PM
---
Who are the ghosts of Zojoji?
I guess we'll find out more in the comic pages of the comic. I remember the first time I saw Zojoji. I was standing on the observation deck of Tokyo Tower. I was looking because I had walked from that direction to get to the tower, so I was retracing my steps. But, also the temple caught my eye because it appeared to have a graveyard behind it.
Kamiko's out and about on her magical girl endurance run, and who should she bump into, but a bunch of ghosts. Not only can she see the yokai, demons, gods, and spirits of the world -- they can see her too and acknowledge her presence in their world.
What if you could see the supernatural? Would you be excited? Annoyed? Would you hide that fact to present yourself as normal?
Maybe if you always saw the supernatural part of the world, you'd might consider it normal. But, I'm certain surrounded by people who couldn't might make you hide such a feat.
Backgrounds
You'll notice the backgrounds look photographic. That's because they are. The photos are my own. I took them in March of 2010 -- 11 years ago for those keeping track. The picture in the first frame comes from the top of Tokyo Tower. I spent quite a bit of time on the observation deck and snapped a lot of photographs. I'm sure folks who live in Tokyo think that it's cheesy to go to Tokyo Tower, but hey, I'm a tourist, and I'm gonna do tourist-y things.
Who would have thought that 11 years later I'd find a reason to use those photos? In a comic no less.
About the only thing I did to the photos was posterize them before layering over it with a gradient map to give it the yellow-blue tinge that everything in the comic has.
My 2010 Trip to Japan
I'm looking back at my photos and it said I was at Tokyo Tower on March 13 2010. I was staying with a friend in Mito, Japan, and I took the train back down to Tokyo to go sightseeing.
I had already done my tour through Akihabara a couple days ago, and I wanted to see more of the sights of the city. So I ventured out first to the Imperial Palace by Tokyo Station. Some photos from my old trip:
A guardhouse (or something) around the Imperial Palace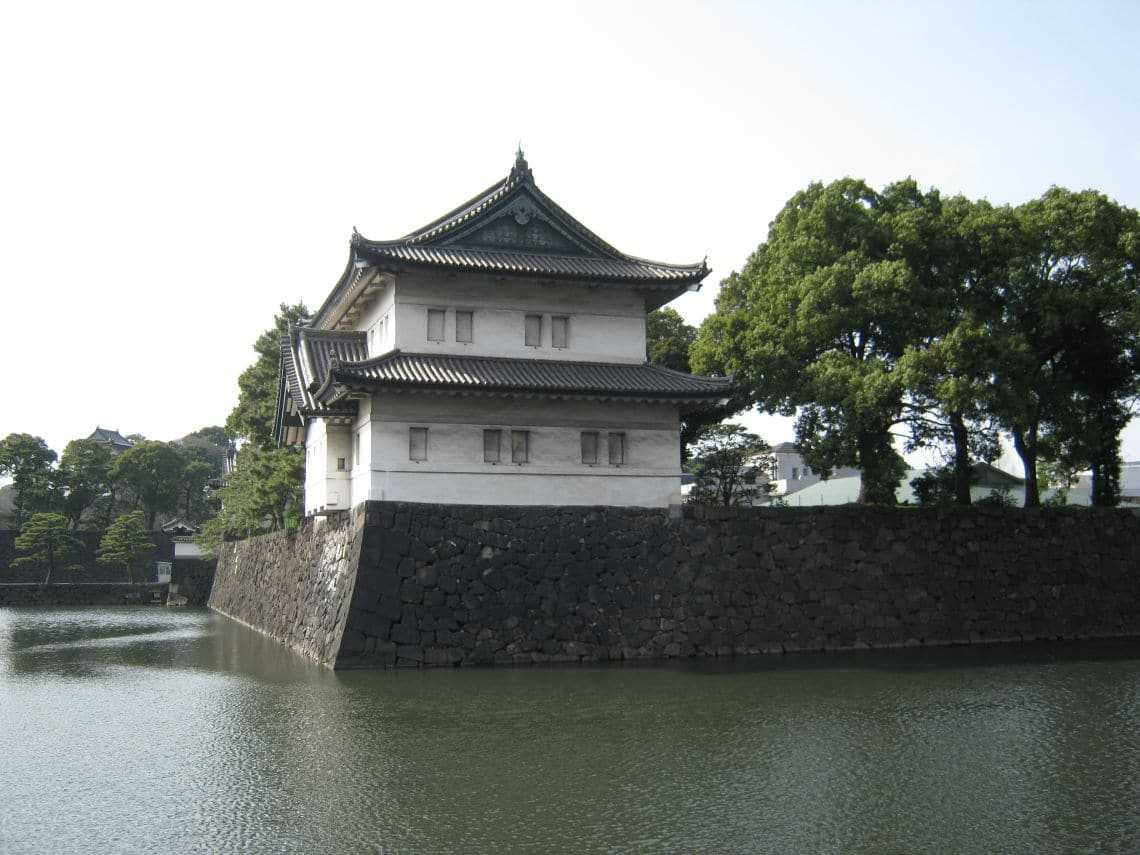 I like the perspective of the road going up to the building. I don't know what kind of building that is.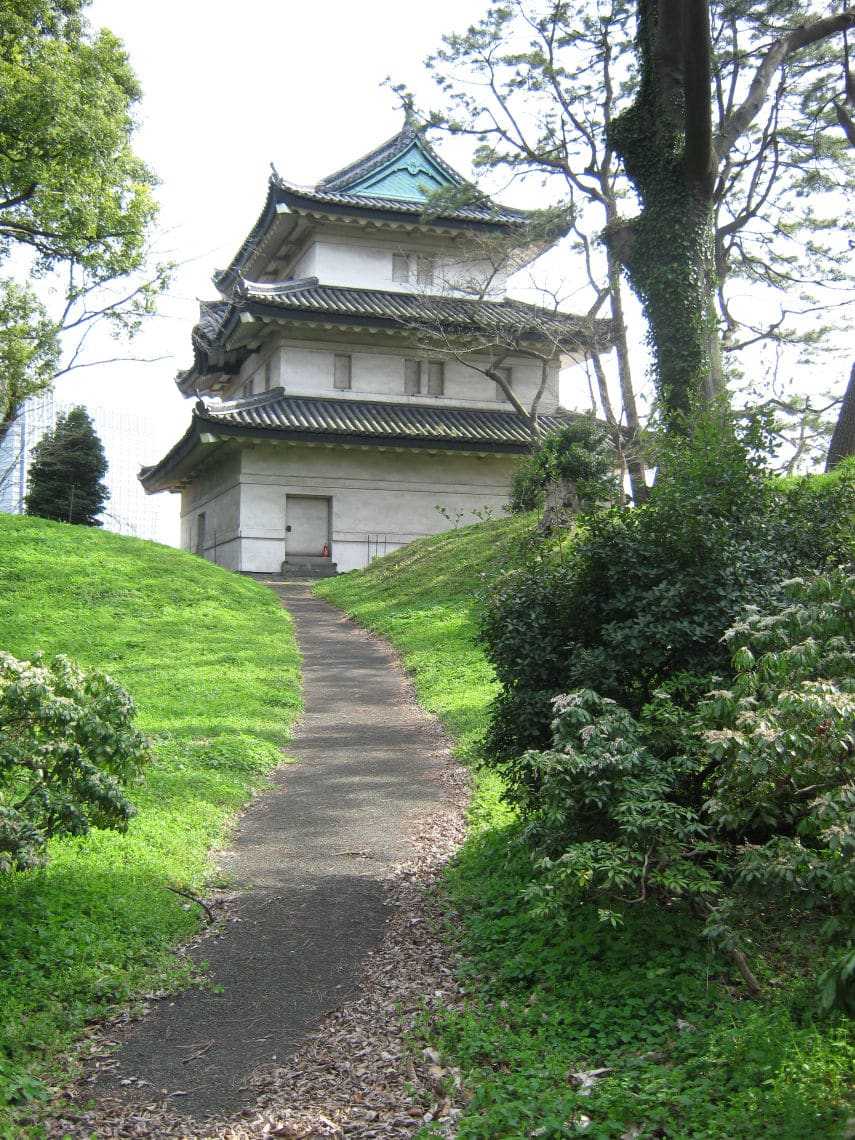 I spent the morning there, and afterwards and I continued walking south.
I'm pretty sure at least. When I tend to sightsee, it's all walking. I go where my feet lead me. I always want to see around the next corner. What new and interesting place can I discover?
Eventually, I came upon...
Tokyo Tower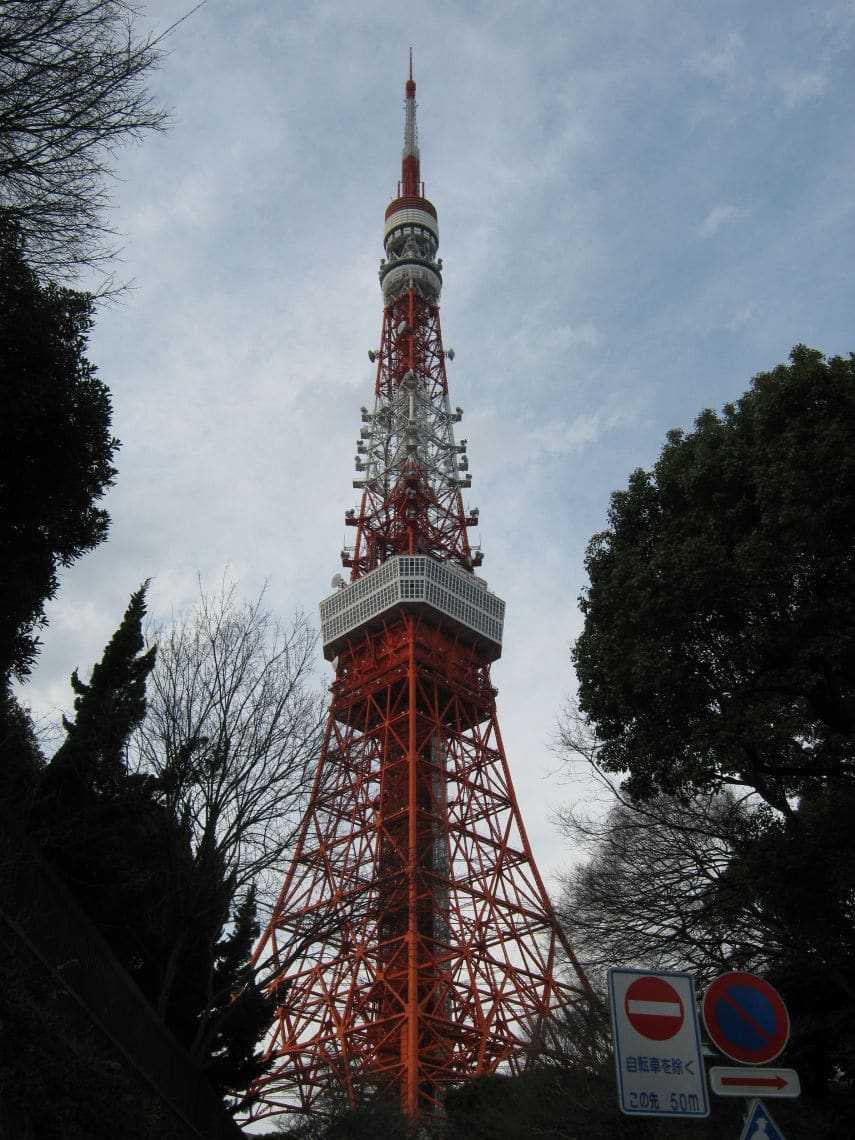 It's a sight I remember from the very first anime I watched... Sailor Moon. It showed up prominently in the title sequence and in the show. Although I think DiC played it off as if Serena (Usagi) lived in Paris, and not, you know, Tokyo.
So, of course, I had to climb to the top and look. That's what you do with high places.
I also walked by the building you see in the last panel of the comic, which I believe is the Gate of Daitokuin (map).
Here are some more photos from the top of Tokyo Tower:
I have a fondness for taking photos of urban sprawl. I thought this was interesting to see a soccer field amidst the monoliths.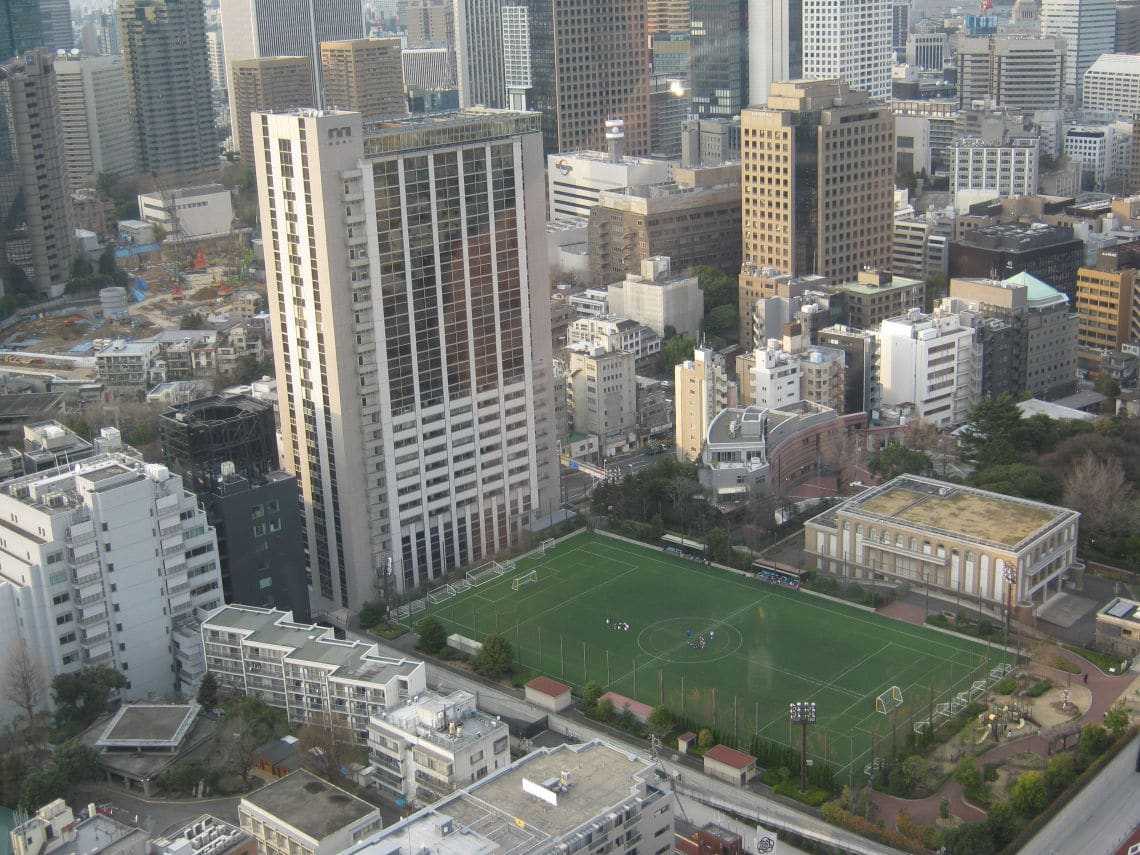 Here are some more skyscrapers. I can't get enough. It's funny: I tend to want to be around trees and natural beauty, but I don't dislike the marvels of engineering that we've produced. The sky that day was pretty overcast unfortunately.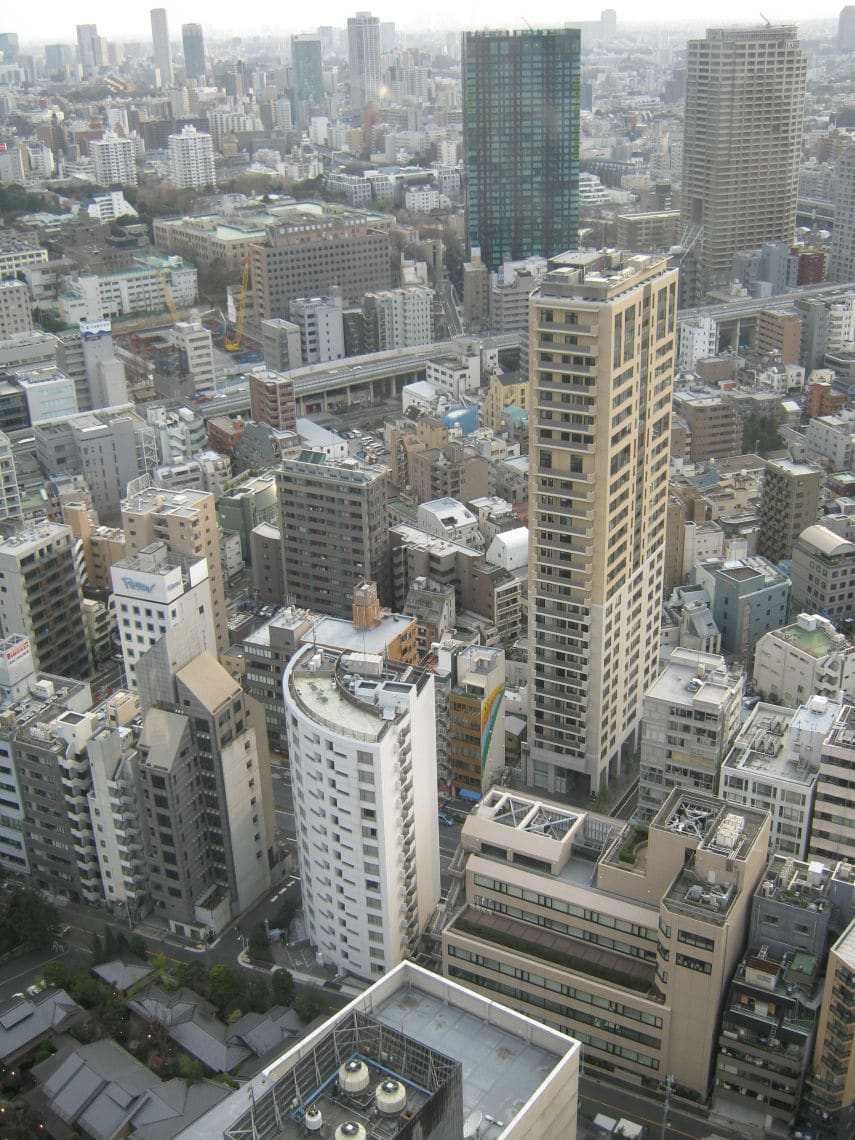 Oh, and at last here is Tokyo Tower at night: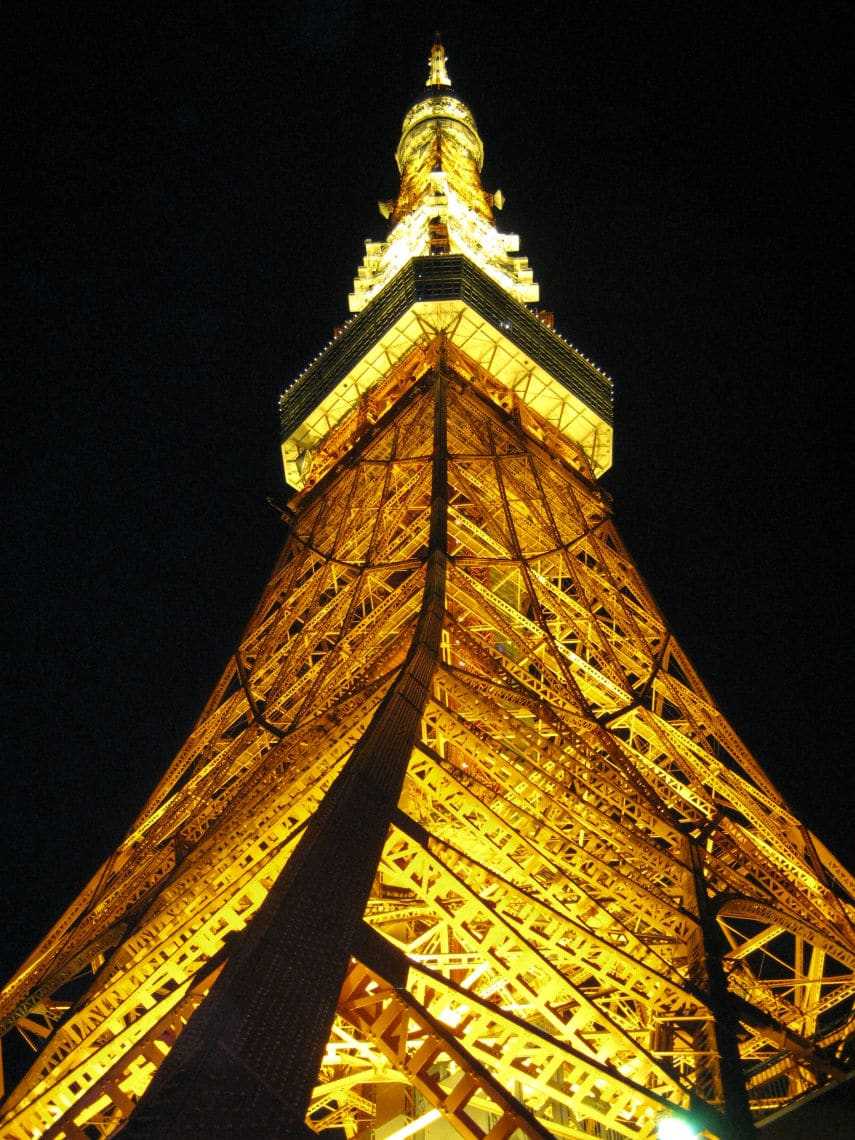 I'm actually planning to use this for another shot in the comic too -- or something like this. You know, an establishing shot, so look for it!
I recall leaving after it had gotten dark. I got lost walking away from the tower, but I didn't feel afraid. I knew if I kept walking towards the city eventually I'd hit a subway station, and the subway could take me back to Tokyo Station, and I'd be on my way back to Mito. I eventually bumped into a gaggle of people and followed behind them towards the subway.
One day when this pandemic has subsided and we can travel again, it would be nice to return to Tokyo, and even see sights beyond. A week is never enough. Maybe a month? Or hell, something I've always considered: a lifetime? I could go there and work. I'd have to take baby steps in that direction.
Well, traveling would be a good start...
Till next week!