Sensoji Temple!
Sep 5, 2020, 12:00:54 PM
---
Kamiko and her buddy visit Sensō-ji Temple!
...and you know what?
I visited Sensō-ji Temple back in 2012.
On my second time to Japan, I got to visit the large shrine in Asakusa with my brother. After we got off the plane at Haneda Airport, we went to our hotel in Ueno, and then took a subway over to Sensoji and walked around. It was hot and muggy, but we had a good time exploring the area.
Oh, if you're curious and need to chide me for my eternal laziness, the backdrop is traced from a photo.
My photo.
There's a reason why Magical Girl Kamiko's adventure is set in Asakusa.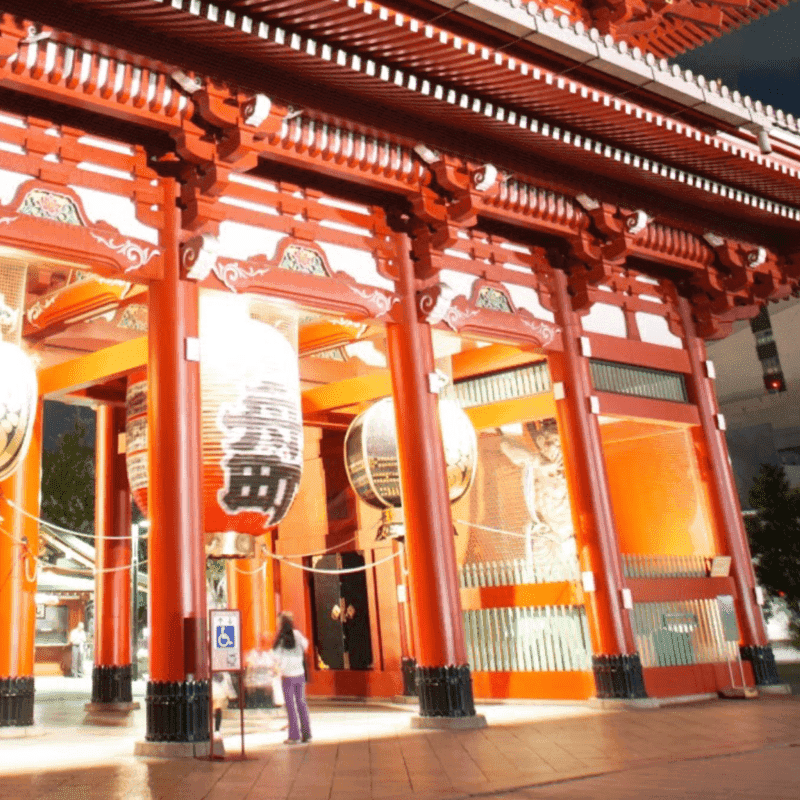 I took the original back in 2012 and I dug it out so I could use it for this comic. The above is only apart of it. I would go look for the original which is somewhere on this harddrive, but you know... lazy.
When I took this picture 8 years ago, I didn't expect to use it as a comic backdrop. It was mostly a really cool perspective shot of the temple at night when there were no tourists or worshipers around.
Oh, BTW do you recognize the pose?
So what's new in the world of Glenn?
Not much.
In fact I'm eating through my buffer of comics for Magical Girl Kamiko, and I am in dire need of sitting down and coloring drawn pages and illustrating new ones.
A lot of this comic is improvised on the spot, which keeps it lively and unpredictable, but having a buffer allows me time to do other things, and boy do I gots other things to worry about.
I suppose "not much" [is happening] is one way to put it.
The other way might be that my car broke down. So I'm dealing with that.
My electronics are getting old. So I'm dealing with that.
I've got plenty to do at work.
But overall, I can't complain. One part of life is always dealing with it.
TV Shows
I was doing a lot of reading, but once I finished Kimi ni Todoke, I felt satisfied.
OH!
But, since the manga lingered with me for quite a bit, I began looking for information about Karuho-san and what she might be up to next in terms of manga. And I learned that there's a special mini-sequel to Kimi ni Todoke called Kimi ni Todoke Soulmate.
Soulmate begins where the original left off, Sawako and Kurumi have gone to college together, and it looks as if Soulmate will close the loop on Kurumi's story. I like their close friendship, and I'm really happy that Sawako is no longer considered "Sadako."
But yeah, I know, Kimi ni Todoke isn't exactly a novel, and I do have some novels and other books queued up that I should get too.
Lately though I've been watching TV shows.
The Avatar Series
Mainly, The Legend of Korra (Netflix), and I watched that pretty much immediately after finishing all of Avatar: The Last Airbender. I like the dieselpunk 1920s-40s Asian motif they have going on for Republic City. Even though the show was uneven in its pacing, I still liked all four seasons. The northern and southern water tribe civil war was 'meh', but learning about the first Avatar in season 2 was cool and that arc opened up some interesting developments later on. Zaheer is a really great villian in season 3 and Kuvira in season 4 -- I'll say no more.
I also like learning about Aang and the gang and what they did in the decades after ATLA. It's great to see a lot of older characters portrayed as well, like Tenzin, Su, and Lin. By showing Aang's family and the Beifong sisters you get a sense of the legacy that they left behind after the first series. There's a lot of surprise guest appearances, but I'll leave it to you to explore for yourself.
I'm interested in checking out some of the comics for both ATLA and Korra. So maybe that's something to queue up in my library, because the comics go into Zuko's mother. There are Korra based comics that deal with and Korra and Asami's relationship, which I'd like to know more about.
I recall when the series ended there were a lot of thought pieces about Korrasami, and I do love me some good yuri anime/manga, so I had some expectations. If there was a nod or a wink to their relationship in the show, it's very subtle, but it being a show on Nick.com, I guess you can't ask for much.
Well anyway, I do wanna read the novels I got, but the draw of learning more about these characters and that world usurps my interest right now, and it's always bests to follow your nose isn't it?
And meanwhile, I should try and eek out a few more pages just to keep Magical Girl Kamiko chugging along.
Till next time...