Jump Rope!
Jun 12, 2021, 8:48:43 PM
---
Author Notes: Jump Rope!
Happy Saturday! Another blast from the past: this illustration was done in November 2011 and entitled "Jump Rope!" Because you know she's... jumping rope with her lil' buddy, Albino Grimby -- which is both an internet handle I go by and the name of that little rabbit.
But this isn't the original!
I always depict here dressed in blue, but I thought that might be boring, so this time, I changed the color up -- it's easy to do, I can explain further below.
But yes, now she's the color of... the LA Lakers, or Thanos? Or... I just really like gold and purple. Who doesn't?
If you want to see the original blue one, you can view it on my evergreen DeviantArt portal.
Color Swapping Really Fast
If you're curious how I swapped the color really fast, read on!
In Clip Studio Paint, there's a feature called "Gradient Map." It allows you to remap all of the colors of an image to the colors on a gradient.
So, for manipulating an entire image that may not seem useful unless you wanted some simple way to convert to sepia, or black and white, or some other simple dual or mono space of color -- but there are also simple filters that can do it for you. But, if you've colored your illustration in layers, then you can use the gradient map explore different variations of colors on parts of your image especially if you're not 100% sure what kind of colors you want.
Or, if you're like me and enjoy making variations for fun.
For instance, here's the original and how I changed it to gold: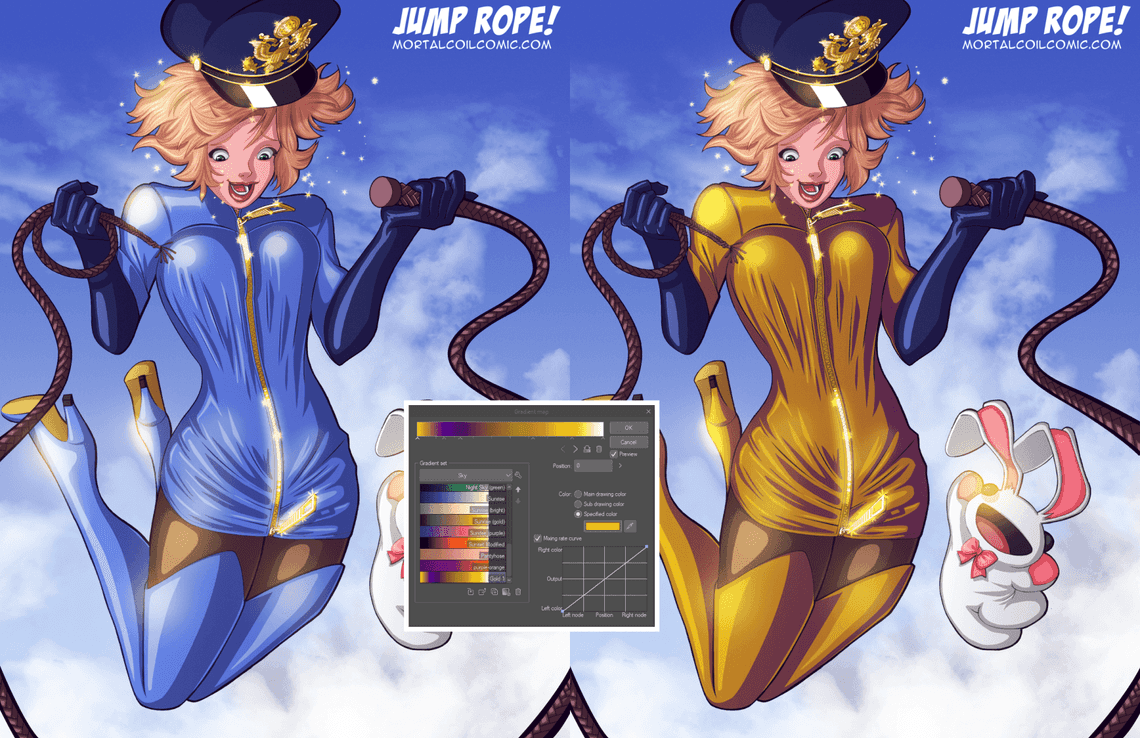 Quick How-to!
Isolate an element of your artwork onto a layer that you want to change the colors of. For this image of Catherine, the dress and boots were originally on the same layer group. That layer group consists of the cel-shading and flat colors. I duplicated those layers and merged them together to make a layer with the shading and flats all flattened together so I could manipulate their colors at the same time. You're of course to experiment or do it in a way that best suits your art style and needs.
In Clip Studio Pain (Pro or EX) go to Edit->Tonal Correction->Gradient Map
You'll get a dialog to come up with a bunch of preset gradients to choose from. You can use those by double clicking on them or make your own.
It's really simple to do and allows you to play with colors. One thing you could do even is to focus on painting elements in values first and then use a gradient map and come back and apply the colors.
I should really take my own advice on that, but then again we all do things our own way, not necessarily the best way. All that matters is that you work the way that's easiest for you and get the results that you want. What I described above is how you could manipulate a part of your image to try different colors.
Some other variations...
Black and white gradient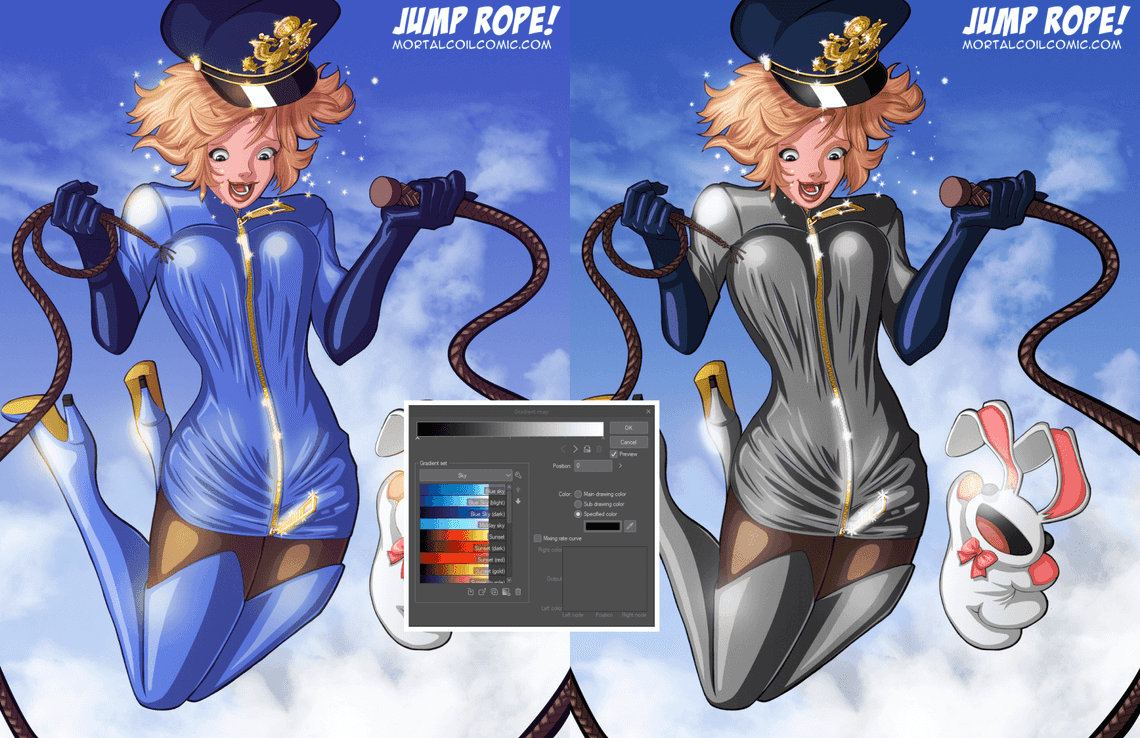 Pastels??
Sure, I could do a red gradient, purple, blue, green... But that seemed boring and I wanted to go for something outrageous. I went to Coolors.co and found a wild looking pastel set of colors and built a custom gradient in Clip Studio. See the result below.
Sky's the Limit!
Of course, like the artwork at the top, I could have done more: modified her hat and gloves. The background. Once I had the Thanos-themed colors used on the dress, I thought why not the background too? And that's why the whole image burnishes with gleeful gold. I also applied a simple gradient to her bunny buddy as if he were struck with the golden rays as well.
Anthology Work Continues...
I'm still working on my Webcomic Underdogs anthology entry. I decided I would color the whole thing. It costs a similar amount of time to just painting the whole thing in grayscale especially with the way I do coloring these days. I actually tend not to separate colors onto their own layers. I find that bothersome. I flat all my colors together and then I use a layer over top that is the shading for everything. I'll pick a off-white color for the shading and then multiple that color to produce the effect I want.
I'm sure another artist might thumb their nose to this kind of cel-shading technique. I'm looking for a combination of "looks good" and speed of getting work done. So if everything is flatted together, there aren't 100s of layers, and picking colors or grayscale values is about the same amount of work.
Why this post is late...
The reason this post is coming so late in the day is because I didn't have time or will power to put this together last night and schedule it. The reason for that is because I was out hiking all day. We went to Mt. Baden Powell in Wrightwood, CA.
You know, I walk around town for exercise, and I've talked about jogging outdoors during the pandemic (which I still do). Most of the surface is flat city streets. This is the first time in a while I've done some mountainous hiking. So, 6-7 hours of driving to and from the location and 7 hours of hiking in-between. I got to the top of Baden Powell and I got to take in some of the majestic views. It was a long but fun day. Today, my legs are sore as hell.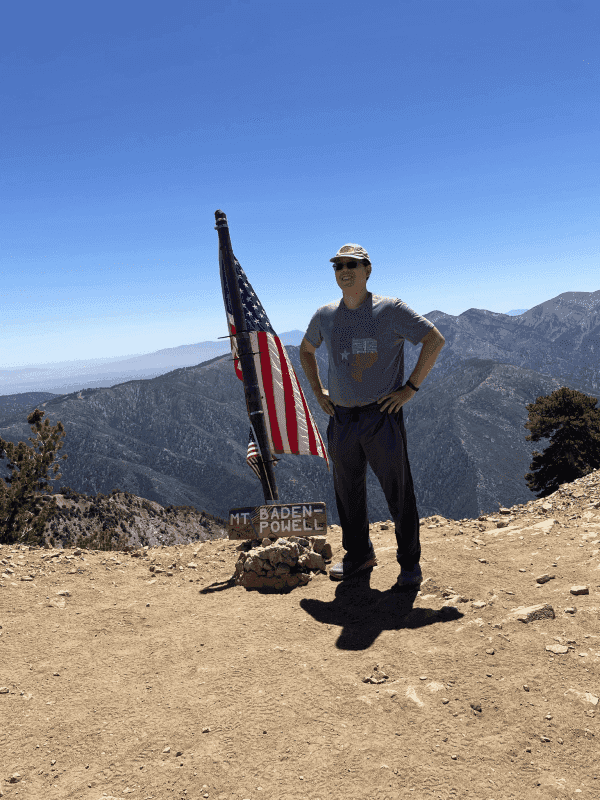 If you want to see more photos from my trip -- a blog post even about the experience, please contact me and let me know.
And by the way, for these comic posts I tend to just write whatever so it's always a hodge-podge of things.
It so happened I was messing with gradient maps, and I figured, hey, maybe you'd like to know how it's done.
If you have other creativity questions you'd like to get my thoughts on, don't hesitate to e-mail me. I can talk about it during one of the comic posts or write up a more substantial blog post about it. I believe we can all express our creativity and do art. I can help you demystify the tools I use -- from art creation to web coding. I've been doing creative work for many years now and I'd love to share what I know with you. And if you know someone else who's interested in learning, send them this way.
I hope you're having a good day. See you next week!