Interested Observer
Mar 6, 2017, 8:15:58 AM
---
Today's comic is Interested Observer
And who is this interested observer?
Well, you should know... but I won't say.
Production Notes
I had no script for this one.
It took me about 3-4 hours from start to end while watching TV to complete this comic. I drew a rough thing in about 10 minutes. Lettered it in 20-30 minutes and arranged most of the bubbles. Roughly penciled it somewhat nicer in an hour's time. Spent 90 minutes to 2 hours inking it and putting some final touches on and preparing it for the website and social media.
I make two versions: a vertical strip which you see on this website and a square version which you'll see on Social Media. It's good for Twitter, Instagram, and Facebook. The vertical one is also good for Pinterest since that site favors longer images.
I also still create a "featured image" even though I stopped using the carousel on the website -- it was bad for SEO, and I'm trying to get this site to do it better.
If it takes 3-4 hours a night, then I don't mind busting out a comic Sunday evening for the next day.
I do have a bunch of 4komas scripted out for later on down the road.
Game Developer's Conference
I posted this to Facebook on Friday and I thought I'd share it here. It's a big write-up for my trip to GDC, the Game Developer's Conference. I live near San Francisco, so it's not a long trip for me, but I'd say mentally it wasn't something I thought I would attend. I didn't think I belonged. Here's my write-up on the days I attended the Expo.
What a crazy couple of days. I woke up Wednesday morning, got dressed, and stood by the front door and wondered, should I go to GDC? What business do I really have there? Is this going to be worth $250 bucks? I was still feeling sick (stuffed nose, lots of mucus) and I actually took my shoes off and slipped out of my jacket. I decided to at least have an early lunch and see if my body was decent enough to travel, and then if I was feelin' it, I'd go when I was done.
I had no expectations for GDC. I felt pretty much cast out to sea. Two years, mostly working in isolation, despite Rodrigo's constant companionship via phone and a weekly/bi-weekly meetup was all I really had. Launching and watching our games flop on the store and burning out in November didn't really help morale. Now, it's just me running the show, if I care. The Apple feature was a bit surreal but a nice capstone to the Prisma Wave Era. I can say our game pushed 10k downloads and we got a feature, and I did see our monetization strategy play out.
Anyway, I haven't completely shut down mentally and become a hikkikomori (i.e. a shut-in, I feel like it though). After lunch, I threw it to the wind. Put my jacket back on and went to the Caltrain Station. I could still turn around at any time, and I told myself that up until I was at Mascone and bought my expo pass. I wandered around and ended up running into Dave on the show floor and Rodrigo was there too. I scoped out the floor and ended up hanging out with Rodrigo. We bumped into Adam at ThirstyBear and I hung around with them for a while. That night I tried to toy with some stuff in Unity. Get back into something with gamedev. Nothing serious.
Thursday though was a bigger day. I caught up with old friends over lunch. I really have no excuse not to see folks beyond GDC. I'm just fucking lazy, and, you know, editing a novel...and stuff.
I met with a game studio that I might want to work for. I scoped out the show floor again and decided to meet with reps from ad middleware companies to understand them better. Maybe Toodle could get better ad rev.
I met Lucy Blundell the creator of the IGF hit visual novel One Night Stand. She's one of the folks who does #indiedevhour on Twitter, and through tweets there I've watched her develop her game. It turns out her ren'py visual novel made a splash -- I don't know if it won any awards, I skipped the Game Dev Award show. I played it though and got the "photo ending" (i.e. bad end).
Thursday night, I ended up picking up One Night Stand and Stardew Valley from Steam. I played Stardew Valley for a while, and like an old man, fell asleep. Not a knock on the game. I was tired after a full day at GDC.
I didn't think I'd come back today (Friday), but I decided, why not? I had a few hiccups on the way, but I'm glad I went. Ended up hanging out with Dave again. We had lunch with Rodrigo and discussed some things.
I got into see a panel from an indie dev who was struggling to find funds and relaying his advice. Maybe it's advice I could use. :) I didn't realize it till I saw the speaker's name at the end, but it was Brandon Sheffield.
I don't personally know the guy, but if you ever google image search Keita Takahashi, you'll probably find a (cropped) picture of Takahashi-san floating out on the web from a GDC talk in 2005 (I think that's the year anyway).
I'm the guy cropped out (with my double chin and fat face) -- I would be to the left. Brandon was the guy who shot the photo back in 2005. I reconnected with him, exchanged cards, and mentioned I'd like to talk to him sometime to pick his brain about finding funds for indie stuff.
Here's the goofy thing... We weren't even supposed to go to that panel -- we had decided to do another one but somehow ended up at the wrong one.
Dave and I capped the day off by walking around the floor and talking with various middle ware vendors. Ended up getting a photo with Tim Sweeney of Epic Games fame after some back and forth of ("Is that him? Try and read his badge!"). At least, I got to shake his hand and tell him I enjoyed UT2K4 back in the day.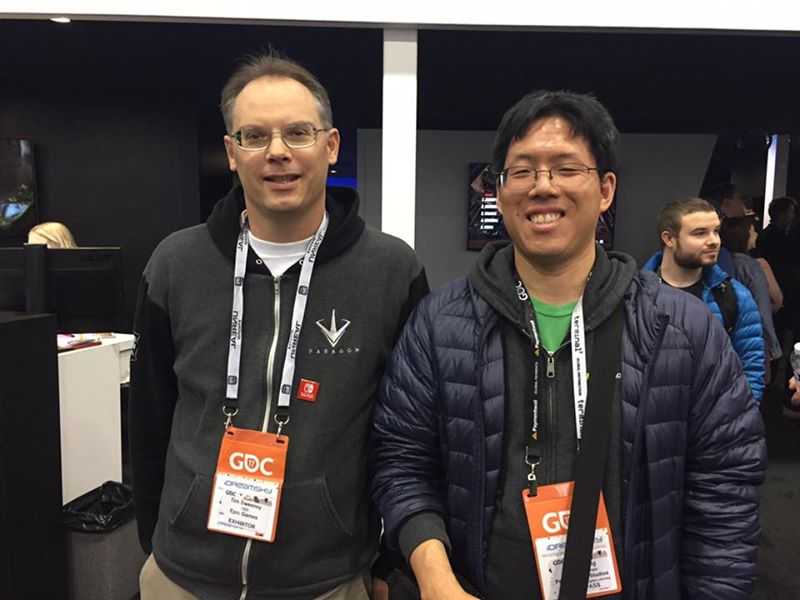 And, so, maybe, maybe while I was doing all this walking, meeting, going to random micro talks...I might have opened up some opportunities for myself and Prisma Wave.
All throughout the convention as I met and talked with folks I knew and didn't know, I was seeing small slivers of light appear under invisible doors. Now, all I have to do is open those doors and walk through the one I want (if they in fact go anywhere). As long as there's a path forward, even a hint, I can't leave it untraveled. I saw Prisma Wave as a closed chapter, but there's a thing in storytelling though called "the gap." It's the gulf between what the main character knows and what the world holds in secret. The main character tackles the world with what he knows, but twists, conflicts, and changes, come from the gap of knowledge, and I'm kinda there in the gap, and now, it's how I react to it and what the world reveals to be real could give me a way forward, or... nothing at all.
I kinda have to vaguebook things since I don't know what will come out of any of it, but I have folks to contact (and already contacted), and we'll see if there's anything to it.
At the very end of the show, I also got to catch up with Vincent and a new friend, Ken at the Metreon. Ken apparently wanted to see my webcomic of all things. I didn't think I'd be explaining that to anyone at the end of GDC or discussing how to recreate Lolita clothing in 3D for high contrast black/white toon rendering, but you know... whatever. (Actually, I think I know how to do it).
I make weird shit. That's probably what I should put on my GDC pass for my job. Not co-founder. Software Engineer? Sure, that's my trade and it's a fancy way to say I can code, but I can do more than that.
Yet, even if I can do all of that technical shit, it doesn't mean anything if you can't put it in front of people to let them get a whiff of it. I really need to work on building relationships and networking. GDC is a great catalyst for that between random encounters, friends, and scheduled meetings.
So yes, even a GDC Expo pass is worth it.
I think I keep saying I won't have a new comic, but I always somehow do. No guarantee, but see you next week!