Lolita Fashion #13: TARDIS Dress
Jan 5, 2016, 2:00:10 PM
---
Lolita Fashion #13: TARDIS Dress
Did you know T.A.R.D.I.S. means "Tailored Apparel, Rococo Designed, Impeccably Styled"?
13 of 30 of my Lolita fashion sketches. This is Kamiko as the Doctor. Did you know there are 13 incarnations even if Calpaldi is the 12th? He's my favorite next to Tom Baker, who Kamiko is styled after in this illustration. This is Kamiko sporting the good Doctor's amazing scarf, sonic, jacket, and a TARDIS blue dress inspired by the clockwork design from the new opening of Doctor Who.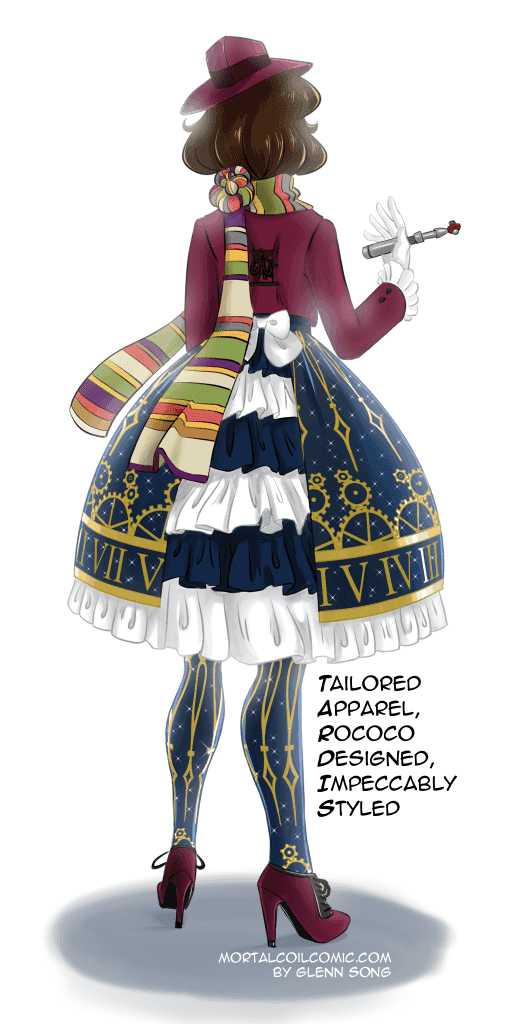 Inspiration
I styled Kamiko after the 4th Doctor -- you can see a picture below of Tom Baker as the Doctor. He's probably the image of the Doctor that pops to mind when you think Doctor Who -- the dude with the long scarf. For Kamiko, I looked up images of artfully tied scarves, even if the scarf itself is ugly, at least Kamiko would tie it nicely around herself. I tried to get the pattern of the scarf down as best I could, but I know I missed a few stripes here or there and once it got up into the bunch it was pretty much anything goes. She's got the old style 70's sonic screwdriver that looks like something a dentist would shove in your mouth. The dress is a TARDIS blue with a motif that's inspired by the current opening of Doctor Who (clockwork gears and clock hands). She's even got Baker's floppy hat and jacket and her heels match same the color.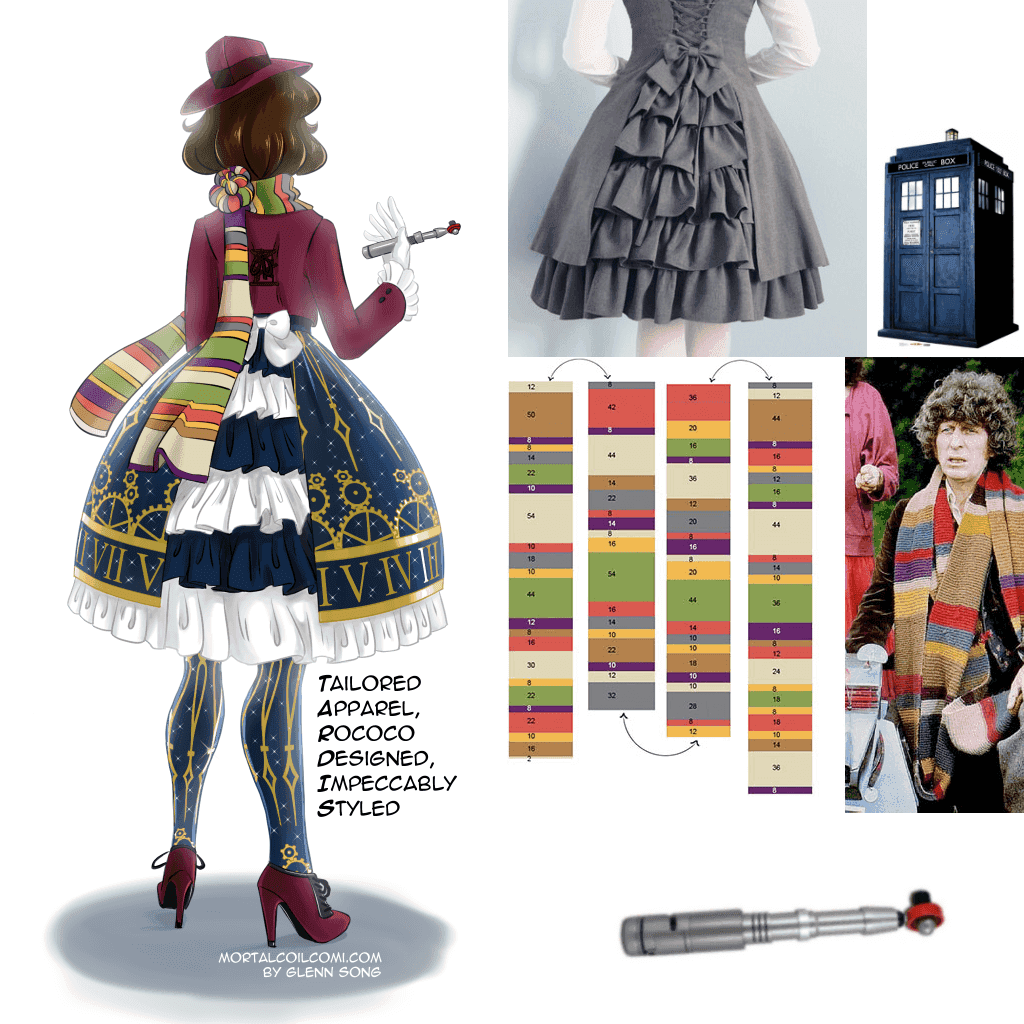 Progression
Just for fun here's the progression from the rough sketch to the final pencil line art and then the painted version of her.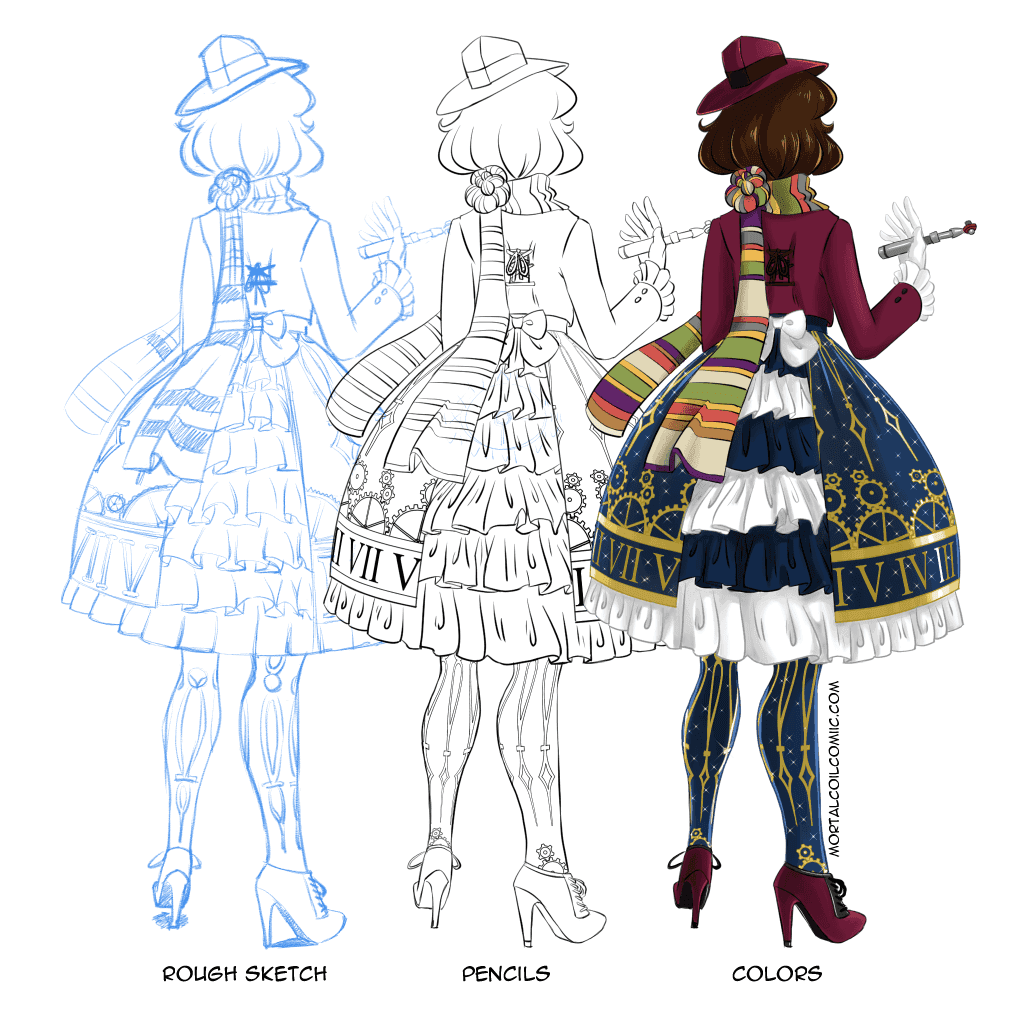 Pattern Element Design
I made the clock hands using Manga Studio's vector tools. The gears were trickier. I actually modeled them in Blender.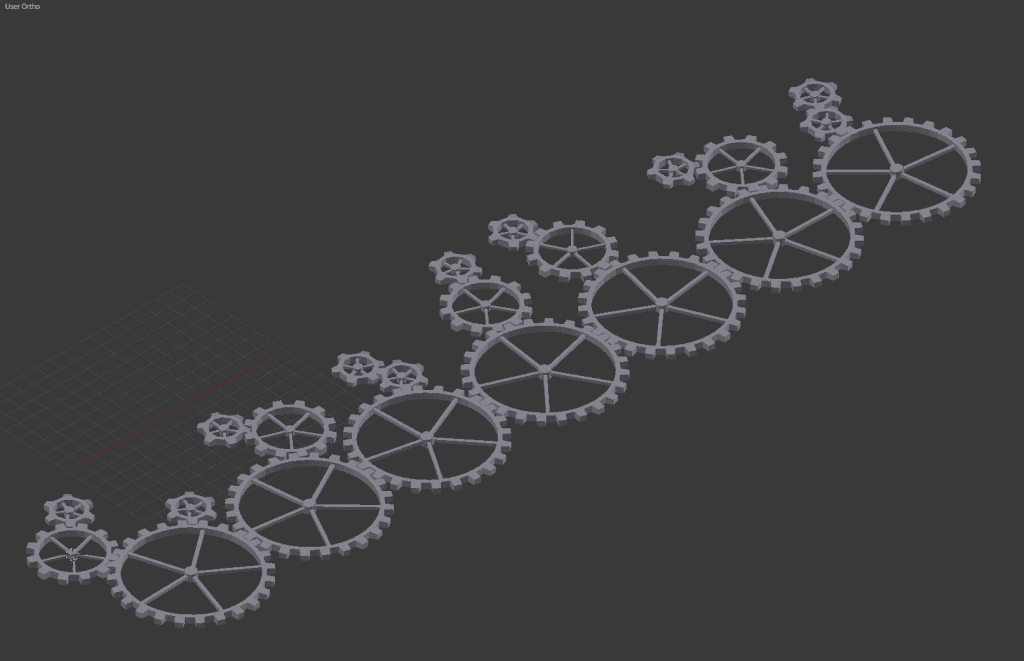 To output the gears as line art I used Blender's Freestyle non-photorealistic renderer. There's an addon to export as SVG so I could get 2D vectors from the 3D viewport render. I exported those to Inkscape and from there I was able to get a high res, transparent PNG for use in Manga Studio. I used the mesh transformation tool to wrap the pattern around the dress.
Below is the line art for the final pattern. I didn't use the whole thing, I just used parts of it for the back of the dress. I tried to match the Roman numerals up to the backside of her dress -- so the 'VI' is cut in half as it's her backside and the numbers wrap around.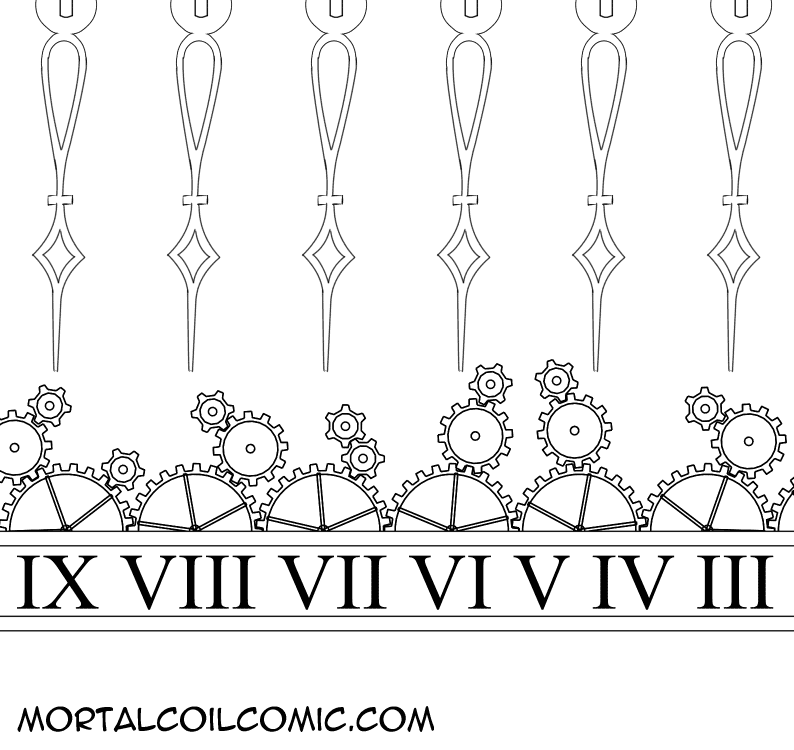 If you enjoy this one, check out the previous incarnations of Kamiko dressed in Lolita right here.
For the next one, a friend of mine really wants a First Order dress... so we'll see what I can do.