Lolita Fashion #12: Peppermint
Dec 30, 2015, 2:00:13 PM
---
Lolita Fashion #12: Peppermint
Lolita Fashion style #12 of 30 entitled "Peppermint." Click on the "Read More..." button to see the behind the scenes material used to make this one.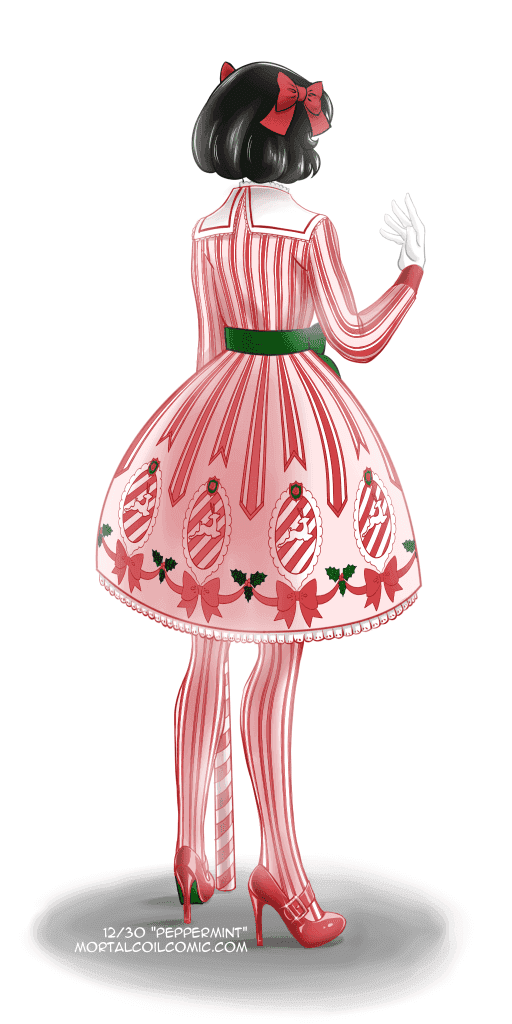 Pattern Inspiration
There are plenty of Lolita dresses that have some kind of print, and I figured it was time to try my hand at one. I wanted a Christmas-y looking one, but I wanted to avoid the typical Santa girl look that the Japanese are so fond of. Angelic Pretty had some nice patterned dresses they put out recently, and I wanted to emulate the look. This is their "Chess Emblem" dress:
Here's a spread out view of the pattern itself: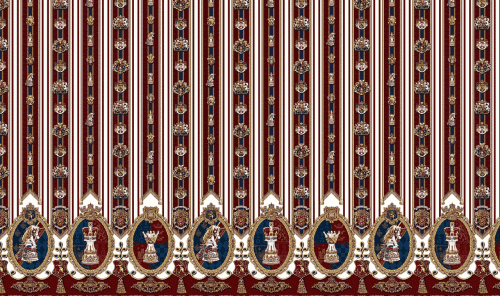 I based the pattern design of Peppermint off that look but keeping with the aesthetics of the comic and style of the sketches, so the coloring is simple and high contrast.
I admit, there's probably more I could do. There's details along the vertical ribbons and I was thinking of placing more Christmas-y items there (gift boxes, gingerbread men, etc). I thought of eliminating the green as well -- there's spots of green that break up the peppermint colors. I decided against it, since I thought it might be busy enough as it is and it'll be scaled down to a quarter of it's size and warped to fit around Kamiko.
Manga Studio Pattern Transformation
Here are the digital pencils as done in Manga Studio, as well as the patterns and the combination of the two:
I actually like it without any of the coloring.
To get the pattern into place, I used Manga Studio's Mesh Transformation tool. To use it go to Edit->Transform->Mesh Transform (there's no shortcut key AFAIK). From there you get a 4x4 grid of points where you can push and pull, and if you go to the tool options you can increase the mesh density to about 8x8 -- and believe me at 8x8 there are enough control points for what you want to do (64 points in all, versus 16 as the default). For the bell-shape part of the dress I increased it to 6x6 (36 control points) so I could have it better fit the bell curve. For her upraised right arm I did a 4x8 (32 control points) so I'd have enough control points to warp only the striped part of the pattern into a 'V' shape to conform to her arm.
For each appendage, the bell shape, and the top of the dress, I warped the pattern into position. It's time consuming, but Manga Studio's not bad at it. MS5 is fairly stable so no crashes or interruptions to work flow. No slow down -- I was afraid of all kinds of issues like this happening.
Pattern Making
The other new thing I learned about Manga Studio was how to use the vector tools. I originally wasn't going to go this far, but when I made the pattern above, I sketched it roughly and I was simply going to replicate that and push and pull it into position, but I thought I could do one better and finally get around to learning the vector tools.
In short, the tools are useful, but it's no Illustrator or Inkscape. To get into vector mode, go to Layer->New Layer->Vector Layer and add one. From there you can use the pencil, pen tools, rulers, line/circle/curve drawing tools like normal, except now it's all vectors. This means with the eraser tool you can snip away parts of a vector line by erasing it. You can use the object tool or control point tool to manipulate the curves as well. You can scale lines easily and everything will look fairly crisp.
The frame around the reindeer in the pattern was one of the most difficult things to produce. With Illustrator you might have tools to help you create a stroke and then you could just make a new oval path and get what you want (or something like it), but here I had to make the individual ovals and place them trying to fit an oval shape, but once I had that I could remove the parts I didn't want to get the final result. Not perfect, but it's my first try doing vectors in MS5.
Till next time...