The Visitor
Apr 1, 2016, 5:30:00 PM
---
Page 1 of 3 of my April Fools comic for Parmeshen.
Edit: I thought I would add some more information about this page.
Kamiko's pulling the same trick she did in the Rabbit and the Moon's latest chapter To the Moon. She writes the address on the door and uses it as a portal to step through.
Easter Egg: That's actually Arik Bijo's address in Parmeshen written on the door. The city on the other side is pretty generic looking, but it's a flat Kamiko owns somewhere in the US.
Arik's address: 560 Tirulo Blvd. Apt. 54 Viranus, Viran Province
Arik's also smiliar to Odo from Deep Space Nine. He's a changeling/shapeshifter and sleeps in a pail, just like Odo!
Kamiko is wearing Angelic Pretty's Classical Cafe OP :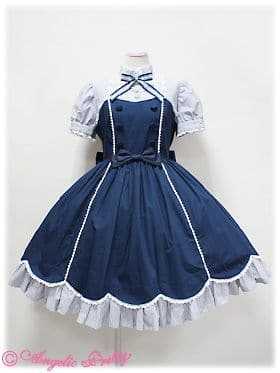 I picked it because it seemed fairly easy to draw and it looks very cute and befitting of her. Her shoes and head piece aren't any particular Lolita brand.